International
Logan, Ahmed Address Intercultural Management Institute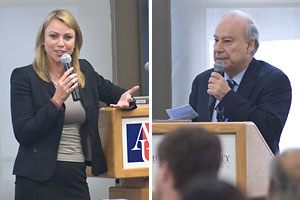 Both keynote speakers at American University's Intercultural Management Institute's 12th annual Conference on Intercultural Relations have a visceral understanding of the Muslim world.

It is their differing backgrounds and perspectives, however, that made both Lara Logan's and Akbar Ahmed's talks so enlightening.
Logan, CBS News' chief foreign correspondent, didn't hesitate to voice strong opinions on several aspects of U.S. foreign policy, particularly in Afghanistan, during her remarks March 10 at AU's Mary Graydon Center.

"The shadow government of the Taliban is operating from Pakistan, all the Al Qaeda leadership is in Pakistan," she said. "What would Afghanistan look like if the U.S. would have dealt with Pakistan to begin with? Many Afghan and U.S. lives would have been spared."

No one knows more about Pakistan than Ahmed. The Ibn Khaldun Chair of Islamic Studies in the School of International Studies, Ahmed is a former Pakistani ambassador to the United Kingdom. In 2008 and 2009 he visited 100 mosques in 75 cities for his book, Journey into America: The Challenge of Islam. He also believes the key to United States success or failure in the region lies in Pakistan.

"You lose Pakistan today, you lose Afghanistan tomorrow," he said. "The level of anti-Americanism in Pakistan is so vitriolic it's irrational. Rightly or wrongly, the image of America is of an uncaring nation."

The keynote addresses were just two hours of two packed days of seminars, talks, and events. The conference featured more than 35 sessions focusing on topics such as "The Cultural Dimensions of Plane Crashes," "Cultivating Consumption: Global Cultures in Lebanese Advertising," and "Intercultural Knowledge Management in Global Organizations." 

Logan titled her presentation after a popular Warren Zevon song. Google "Lawyers, Guns, and Money," read the lyrics, and you'll see why it's not printed here. The South African native has spent the better part of the past two decades reporting from dangerous war zones all over the globe. Just last month she was reportedly assaulted in Egypt, an incident she didn't address during her talk.

"Growing up in South Africa you understand that intercultural isn't just between two countries," she said. "It was always astonishing to me that Americans would come to Iraq and say these people are more concerned about clan than country. I grew up in a country where we were ashamed to be South African."

Logan recounted an instance when she greeted an Afghan with the standard Arab phrase, "Salamu Alaykum." A nearby U.S. soldier overheard and asked what that was. When she responded that it's "how you greet people in this part of the world," he replied, "Roger that, ma'am." She was shocked that a U.S. soldier would not know such basic cultural information.

Logan has lived in Iraq and spent significant time in Afghanistan, a country she called "anarchic."

"The first time you go there you [see] shades of brown you didn't know existed," she said. "It seems like an ungodly [place]. Over the years it grows under your skin."

Logan always has embraced different cultures, a quality she believes makes her a better journalist.

"It is your innate responsibility to learn how other cultures function, and why," she said. "When you go into another culture, don't look for the culture you know, look for the culture that's there."

Both Logan and Ahmed said anti-Americanism in Afghanistan and Pakistan is at its worst level since 9/11. While Logan seemed pessimistic on the prospects for peace—"Will there ever be peace in the world? No. Never has, never will be"—Ahmed was a bit more upbeat.

He recalled a photo of first lady Jacqueline Kennedy riding in an open car through the streets of Lahore, Pakistan. Thousands of onlookers surrounded her, throwing flower petals.

"There have been periods when America has been very popular in the Middle East," he said, "because America stands for something."