Achievements
Building a Successful Fulbright Partnership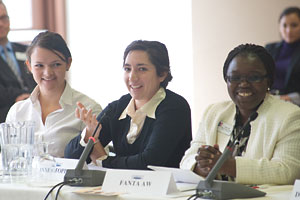 The J. William Fulbright Foreign Scholarship Board, chaired by AU's School of Public Affairs executive in residence Anita McBride, met March 16 at American University. Joined by President Neil Kerwin, board members heard from a panel of AU faculty, students, and administrators.

Panelists offered case studies on the successful partnership between AU and the Fulbright program, including student experiences and a glimpse at the behind-the-scenes preparation necessary to turn a Fulbright applicant into a Fulbright scholar.

Paula Warrick, director of the Office of Merit Awards noted that AU has produced five Fulbright scholars and one alternate this year.  Warrick and her colleagues outlined the painstaking process of identifying, counseling, and preparing potential Fulbright candidates.  Doug Klusmeyer, a professor in the School of Public Affairs and a Fulbright faculty mentor, said essays can take up to a dozen drafts to prepare—not the sort of task most people are willing to take on.  Twenty-one international Fulbright scholars are currently studying at AU. The scholars represent 17 nations, among them Austria, Brazil, Ecuador, Haiti, and Iraq.

Other panelists—including Fanta Aw, director of International Student and Scholar Services, above right, AU student Eleana Kazakeou, left, a 2011 Fulbright scholar from Cyprus, and Anne Stopper, SOC '03, center, a 2003 Fulbright scholar who turned her research in Ireland into a book—presented the student perspective on the Fulbright experience.