Research
Criminologist Sets Sights on ATF Database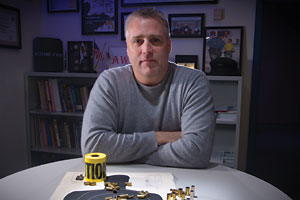 The yellow crime scene tape tells the tale: something unsavory happened on this spot.
There's no DNA evidence, no fingerprints, no eyeball witnesses. But see that spent cartridge on the ground? That tiny piece of metal could turn this stone-cold whodunit from red to black.
Just as a strand of hair has a one-of-a-kind DNA signature, spent cartridges have unique tool marks — the firing pin and breech block impressions — that link it to a single weapon. When that gun is used in the commission of several crimes, whether across town or across the country, forensic ballistics evidence can link the incidents and help identify a perpetrator.
Administered by the Bureau of Alcohol, Tobacco, Firearms, and Explosives (ATF), the National Integrated Ballistic Information Network (NIBIN) serves as a clearinghouse for ballistics evidence. Currently, NIBIN — which has 190 terminals located in crime labs and police stations across the United States — contains more than 1.6 million pieces of evidence that have produced more than 34,000 hits linking at least two different crime scenes.
The success stories are the stuff of Ann Rule novels. Using NIBIN, the Los Angeles Police Department linked a 9mm pistol to five gang-related shootings in South Central. In Chicago, police discovered a gun obtained during a routine traffic stop was used to kill an innocent bystander eight years earlier.
But are these cold cases-turned-closed cases the exception or the rule? NIBIN spits out thousands of hits, but do most detectives act on that information or simply shove it into a desk drawer? Are underfunded and overworked crime labs able to process evidence and submit it to NIBIN in a timely fashion?
School of Public Affairs professor Ed Maguire is among a team of criminologists and forensic scientists tapped to evaluate NIBIN's effectiveness. Maguire, chair of the Department of Justice, Law, and Society, will join researchers from Sam Houston State University, Arizona State University, and the University of Cincinnati on the project, which kicks off this summer.
The research is funded by a $341,807 grant from the National Institute of Justice.
Among the team's objectives: determine if the nearly 200 NIBIN terminals — collection points for ballistics evidence — are appropriately located near hot spots for crime and evaluate their usefulness in solving gun crimes.
"We plan to hang out in the shadows, observing how crime scene techs process evidence and interact with officers," said Maguire who, along with the team, will travel to 10 police departments across the country. "We're going to follow the journey of ballistics evidence from crime scene to courtroom."
Maguire's also curious to discover how much police know about ballistic-imaging technology, which emerged in the mid-1990s. (NIBIN was established in 1999; previously, ATF and the Federal Bureau of Investigation used different systems, which couldn't "communicate" with one another.)
"A great gulf exists between technology and the way street cops make sense of those innovations," he said. "DNA evidence can be very effective but it's expensive and, in many departments, underused. Is the same true of ballistics evidence?
"As a social scientist, it's my job to help bridge that gap."
Maguire's built a career researching police organizations and helping departments to become more innovative and adaptable. For the last six years, he's worked on a multimillion dollar project designed to help curb homicides and gang violence in Trinidad. Traveling to the Caribbean nation more than 50 times, Maguire had to start with the basics, digitizing homicide data and teaching detectives to preserve crime scenes. 

He tells of a Trinidadian detective who opened his desk drawer to reveal an assortment of firearms collected from suspects. "He didn't know what to do with them, so he just put them in a drawer," said Maguire.
Even in cases where evidence was properly processed and ballistic imaging technology linked crime scenes, police often didn't act on those leads.
"We found that one-third of detectives who'd received correlations [from the crime lab], didn't do anything about it. They didn't have the processes and procedures around the technology to know what to do with it," he explained.
That prompted Maguire to ponder: Could this be happening in the United States? And so began the investigation into NIBIN.
"Interpol adopted NIBIN in 2009, so our national standard is rapidly turning into an international standard. It's critical that we understand what's happening on the ground at our police departments," he said. "We need to know the extent to which this technology is helping to solve crimes."
A Massachusetts native, Maguire thought he would be a crime fighter. The nephew of a beat cop, he worked part time as a police officer in college; ultimately, though, his love of writing and traveling seemed a better fit with academia.
"I'm a social scientist who's built a career around trying to help cops—it's the best of both worlds."