On Campus
University's New Portal Online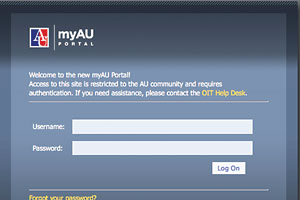 American University's new portal is online.

The myAU.american.edu portal went live on March 21. When users log on to the old portal, my.american.edu, they now are offered the option of using the new one. In roughly a month the old portal will be replaced by myAU.american.edu as the destination for AU students, faculty, and staff to conduct their university business.

"The new portal offers more intuitive navigation, easier access to information and tools related specifically to the user's role at AU," said Francesco de Leo, director of Web and emerging technologies in the Office of Information Technology. "Now it's as easy as just typing in what you want and the right application will come out. You no longer have to navigate to a link, you just have to think of a few keywords."

Developed on top of Microsoft Sharepoint, a leading collaboration tool, the new portal integrates more fully with MS Office Tools and AU's Colleague platform, the enterprise resource management system that contains all student, staff, and faculty data. The new portal will allow groups and teams to work more collaboratively through document sharing, time and task management, discussion, and wiki tools.

It's been customized for each segment of the university community. Students, faculty, staff, parents, and alumni each get news and links targeted specifically to their group. Its infrastructure is built for high availability, secure access, and content protection, including load-balanced servers, monitoring 24 hours a day, seven days a week, and nightly content backups.

The look of the new portal is cleaner, said Sheri Zimmerman, a consultant in enterprise systems at the Office of Information Technology.

"We wanted to get the brand the same as what's on american.edu in terms of logos, colors, and fonts," she said. "We also wanted to organize things into better pockets than there were before."

When a user logs on, they will be directed to a specific landing page, determined by their relationship to the university. In the middle of the screen are announcements, events listings, and news targeted to their specific group. On the right side of the screen are links and bookmarks. There's a search feature on the main page that lets users hunt for key words.

The launch is one step in an ongoing process. Actual development started in January 2010. It is a campuswide effort led by OIT, aided by representatives from academic and administrative units that have worked together for several months to come up with the new design, content, and the specifications for the improved functionality. Student, staff, and faculty focus groups and more than 3,000 users have used the new portal while in Beta, providing further insights for designers to improve content and ease of use.

In about six months the site will be expanded to include collaborative functions that will allow groups, teams, and committees across campus to work together in "team rooms." Personalized notifications will appear on a page, so if there is an action that a student needs to take it will become immediately apparent as soon as they log in. Also in the works are plans to allow people to customize their page.

For now, many of the functions continue to be carried out by the old portal system.

"A lot of the effort here was geared toward getting the new portal integrated with [existing] systems so we can start using the new framework as the foundation for the next generation of AU's portal applications," de Leo said.