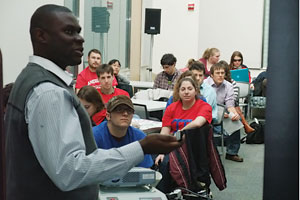 The Departments of Mathematics and Statistics and Physics celebrated Pi Day, March 14, with three professors shedding some light on the mathematical constant. 
Professor Emmanuel Addo, below, told students about 3.14's history and importance, and Professors Nate Harshman and Steve Casey also spoke. With the help of a computer, pi has been calculated to trillions of places, Addo said. 
Among the other pi facts in his PowerPoint presentation:
There is no zero in the first 31 digits of pi.
The fraction 22/7 is a well-used number for pi and it is accurate to 0.04025 percent.

At position 763 there are six nines in a row. This is known as the Feynman Point.

All permutations of three arbitrary digits appear somewhere in pi.

The pi memory champion is Hiroyoki Gotu, who memorized 42,000 digits.