Internships
AU Is No. 3 for Internships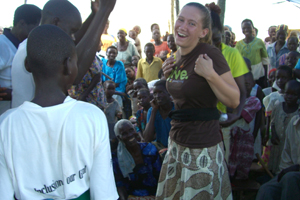 Eighty-one percent of AU's 2009 undergraduate class completed one internship, many completed more. That number landed American University the third place spot in the nation for undergraduate internships, according to a new survey by U.S. News and World Report.

The national average for undergraduate internships is 36.8 percent.

While most AU students intern locally — at institutions like the World Bank, National Institutes of Health, the Federal Bureau of Investigation, the Smithsonian Institution — a global network of opportunities sends interns to the Associated Press in Thailand, Global Conscience Initiative in Cameroon, and more.

A semester on the Hill, at an investment bank, or in a newsroom is a hot ticket that for some students like Jheanelle Wilkins can lead to a job offer.

Wilkins, a McNair Scholar from the University of Delaware, spent fall 2008 at AU's Washington Semester, the country's oldest and largest experiential learning program. For 16 weeks, Washington was the sociology major's learning lab.

A student in Professor Diane Lowenthal's American Government and Politics seminar, Wilkins toured the Supreme Court and the U.S. Capitol. She interned at the Leadership Conference on Civil and Human Rights, making such a splash as a writer, organizer, and activist that she was hired upon graduation.

"That semester in D.C. helped me to realize my passion," recalled Wilkins, 22. "I was going to hearings on the Hill, attending rallies, doing research. I felt like I was making a difference every day.

"As soon as I left D.C., I knew I needed to come back."

After graduating from UDel in May 2009, Wilkins was back on the Hill, interning with Senator Tom Carper (D-Del.) before starting her job as intern coordinator at the Leadership Conference. There, Wilkins recruits students (she's eager to greet her first Washington Semester intern), organizes events, and drafts calls to action around immigration and education issues.

Her D.C. homecoming also marked a return to AU, where the School of Public Affairs master's in public administration candidate anticipates a May graduation.

Wilkins' internship-to-employee success story isn't one of a kind:

Alexis Nadin, SIS-SPA/BA '10, a program associate with Global Giving, a foundation that connects donors with grassroots projects around the world, interned there as a sophomore.
Alli Gold's internship experience at the Environmental Protection Agency's Office of Wetlands, Oceans, and Watersheds (OWOW) helped her land a fellowship with the Oak Ridge Institute for Science and Foundation. Gold, SPA/BA '10, returned to OWOW for full-time employment.
After interning with Rep. Barney Frank (D-Mass.), Ben Tingle, SPA/BA '11, was accepted to the Student Career Experience Program. When he completes the program, he'll join the U.S. Department of State's Rapid Response Team, evaluating requests related to the Freedom of Information Act.