In the Community
Baratta Lends Hockey Coaching Acumen to USA Warriors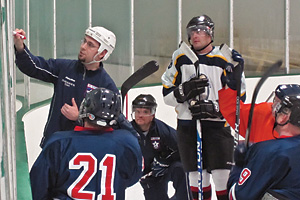 Fifteen minutes into practice David Baratta is diagramming a play along the boards of the rink, his team gathered around him in a semicircle. Some of the players are wearing Team USA jerseys, others sweaters of their favorite National Hockey League team. They're outfitted in helmets, gloves, and skates, which on many players are attached to a prosthetic leg.
The intent with which the USA Warriors hockey club pays attention to Baratta, one of its volunteer coaches, is impressive considering the team plays only sporadic exhibitions and scrimmages. Baratta, senior administrative assistant in the School of Public Affairs' Department of Public Administration and Policy, and the players take pleasure in the simple beauty of the game itself.
The Warriors are perhaps the toughest team ever to take the ice. Their roster comprises veterans who have lost limbs and suffered combat injuries.

"I'm thrilled that I have the chance to do something for all the guys who have made sacrifices for us," said Baratta, a lifelong hockey fanatic. "The freedom they give us allows me to enjoy hockey. They've sacrificed so much."
Watch the players strap on and lace up their gear before their weekly Wednesday night practice this April night in Laurel and that's poignantly clear. Some, including those who have lost both legs, prop themselves on a sled. Using two sawed off hockey sticks to propel themselves on the ice much the way a cross country skier moves across snow, they glide with the grace and swiftness of a seal through water.
At the opposite end of the rink Baratta runs the other players through fundamental and strategic drills. He started playing hockey at age four in his hometown of Pennsauken, New Jersey, where his first coach was Tom Monahan. It was Tom's brother, Steve, who introduced Baratta to the Warriors, which he started coaching in July.
A hockey player as a George Washington University student, where he's now an assistant coach, Baratta embraced the opportunity to work with the Warriors, a collection of players ages 18 to 50-something who span the spectrum of ability.
Retired Sgt. First Class Joe Bowser, 51, is among the team's most seasoned players.
"I got hit on April 12, 2004, by a 122-millimeter rocket inside Camp Anaconda" in Iraq, he said. "Yesterday I celebrated my Alive Day—the day God gave me a second chance at life. The doctors told me I could have a bunch of surgeries and they could try to save the leg, or I could have it amputated and be able to do everything I could do before. So I had it amputated so I could play hockey."
And play he does. It took him a few years to regain his balance and speed on the ice, but now he skates so smoothly and plays with such skill that he earned a spot on the 2007 silver medal–winning U.S. National Amputee Hockey Team.
"The phantom pain is real, and so is the phantom sensation of feeling my foot," he said. "I have an idea where it meets the ice. But ask my wife—I always step on her feet."
Army Specialist Brandon Ross, 26, has been hit with IED shrapnel 10 times, though "only" a few of those blasts hurt him. He was recovering at Walter Reed Medical Center from a serious IED blow to his hip in Iraq when he decided to give hockey a try.
"I couldn't walk, and when I finally got up I wanted to find something to keep me physically challenged," said Ross, who was practicing with the team for only the second time. "I skated when I was a young kid, and I thought hockey would be fun to try. The guys are so awesome, they keep you motivated."
Meshing players as different as Bowser and Ross is a challenge, but Baratta pulls it off partly because he believes the game offers something for everyone.
"Guys who grew up playing it or just started love it," he said. "It's such a great group. They're in the military so they're adventurous when it comes to new drills and they follow orders."
From the most accomplished players like Bowser to the newbies and "two-leggers," as he likes to call non-amputees like Ross, the Warriors are an eminently coachable bunch.
"He's a good guy," Bowser said of Baratta. "He wants to do something for the solider, and he wants to teach us something about this game. Being in the military you are a team when you go [overseas], and we're all out here as a team."