International
CNAS Awards Stemper Fellowship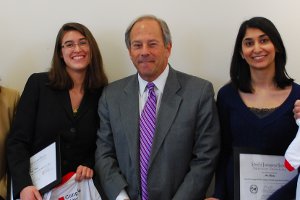 AU's Center for North American Studies (CNAS) has awarded a new fellowship named in honor of CNAS's former associate director.
The center, based in American University's School of International Service, announced the winners at an April 5 roundtable, "A Tale of Three Federalist Systems—Canada, the United States, and Mexico in a North American Economy."
The panel, moderated by CNAS founder and director Robert Pastor, included Stefanie von Hlatky of Georgetown University, Chris Sands of the Hudson Institute and American University, Manuel Suarez-Mier of American University, and Kenneth Button of George Mason University. It was sponsored by the Quebéc Government Office in Washington, D.C.
The first David Stemper Fellowship in North American Studies was awarded to Inu Barbee, SIS/MA '12. Casey Petroff, SIS/BA '13, was awarded an honorable mention. Both received $1,000 grants. 

"David Stemper was committed to the North American idea and brought great enthusiasm to teaching North American students," Pastor said of his late colleague. "The Faculty Advisory Committee of CNAS agreed to name an award in his honor to further student understanding of the relationship among Mexico, Canada, and the United States and the future challenges faced by the continent."

Barbee will study the European Union's Single Market program to find lessons for North American integration. Petroff plans to write about the obstacles the three North American countries face in improving cooperation on energy and climate-change issues. —CS