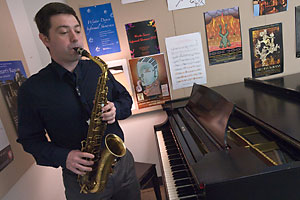 Gather a quartet of American University jazz performers, academics, and all-around aficionados, as we did April 12 to discuss the state of the genre, and the result is as free flowing, thought provoking, and at times jarring as the music itself.
April is Jazz Appreciation Month, and no one loves "America's classical music" more than musicians in residence Joshua Bayer and Noah Getz. They were joined in a Katzen Arts Center studio by music professor Marc Medwin and music library specialist Cene Ketcham for a wide-ranging discussion on the past, present, and future of the music Nina Simone called "a way of life, a way of being, a way of thinking."
"As a player it's a real thrill to play jazz because there aren't any nets," said Getz, a saxophonist and teacher. "It's highly improvised and synchronized. You can't really hide behind anything. In many ways jazz is America's musical contribution to the world, and it's a tree that grows up into rock and these other art forms. I think there is a duty and a responsibility to maintain it and preserve it because it's so important."
Yet for every well-funded program like Ken Burns's Jazz or Wynton Marsalis's Jazz at Lincoln Center, thousands of musicians and scores of clubs where the lifeblood of the music once flowed struggle to survive.
Bayer, a guitarist and bassist who has performed at venues ranging from the Detroit Opera House to Georgetown's legendary Blues Alley, said the well has dried up for many who rely on the clubs for income and as importantly, experience.
"I think something that's inherent to the genre is cutting it in the clubs and cutting your teeth out there five, six, seven nights a week," he said. "When it comes down to existing in an academic environment only, then it becomes more of a knowledge-based, no experiential thing."
"The challenge for us is recreating an environment that will allow students to evolve in an organic way rather than a superimposed way," said Getz, who will be performing in Canada and Australia in July.
That's one of the aims of AU's music program, which each year is attracting more and more talent, Bayer said.
"Students now are more musically savvy," he said. "I have cats coming into the studio that know a lot more than I had coming in 10 years ago in terms of musical tools. I love it."

While that may be true for music students, Medwin sees just the opposite in the general education courses, such as jazz history, that he teaches.

"They may like jazz; they may know a bit about jazz, but it's hard to get them to sit down and actually do the dirty work of digging into the details," he said. "This is where I can draw in a lot of kids listening to funk or whatever it is. Students know what's going on now, but they may not know where that music came from. That's what I can offer them. 'You like hip hop? Have you ever heard the Last Poets? You think you know how this music works? Where did it come from? Why is it important? What are its cultural predecessors?'"

Bayer doesn't fault young people for glossing over a style that all four men agreed peaked as popular music in the late 1930s.

"Pop music used to be very composed," he said. "Music that takes work to listen to now nobody wants to hear. Damn you Elvis. Now we've got two minutes and 46 seconds, you're in, you're out. That's totally fine. I'm not going to blame people for responding to how their minds have been expanded or not expanded."

Getz jumped in.

"I'm not sure that there's not a group of curious kids who aren't interested in exposing themselves to longer tracks and different types of music," he said. "I've got a fair number of kids, some of them don't listen to jazz but a lot of them are interested in alternative rock music where there's a mixture of jazz or world music coming into it. They're going to clubs—it's just not jazz clubs."
And at AU, they're making great music. Bayer and Getz both lead jazz bands, the quality of which they say is rising every year. Bayer's orchestra has played at the Kennedy Center, and next year he plans to take his students on the road.

If you can't make it to a show, do yourself a favor and dust off an old copy of (or more likely download) Oliver Nelson's "The Blues in the Abject Truth," or Miles Davis's "Miles Smiles."

"I think it's the most individual and personal and emotional music," Ketcham said of jazz. "If you really listen to somebody a lot I feel like you really know them on a very deep level. How they feel about things, what's important to them, it comes out in the music."