Literature
Researching 'Wilfull Murther'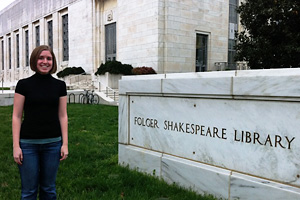 Call her a lit wonk.
Taylor Roosevelt, a master's student in the College of Arts and Sciences' literature department, leveraged AU's Washington location to study at one of the world's greatest collections of materials related to Shakespeare and Renaissance scholarship, the Folger Shakespeare Library.
The Savannah, Georgia native was one of only eight students in the weekly Folger seminar, a semester-long immersion in graduate-level research methods that concluded last week.
Unlike many of her fellow students, who flew in from places like South Carolina, Alabama, and New York to attend the seminar, all she had to do was hop on Metro. And since American University is part of the Folger Consortium, payment for the class was covered by her AU tuition.
Each week the class delved into different approaches to handling archival materials. Class members wrote bibliographies, studied the history of the book, learned to analyze images and the visual culture of early modern resources, and did paleography. They also transcribed manuscripts from the sixteenth and seventeenth centuries.
"The main thing we're getting is a comprehensive approach to a text from the early modern period," Roosevelt said before her final class. "So you look at who wrote it and get some bibliographical information on the author. You also want to look at the printer and the bookseller because a lot of the time they had more influence on how the book was presented since the author had nothing to do with the illustrations that got attached to the books."
Each student received material from the Folger's collection that reflected individual research interests. For Roosevelt, that meant Renaissance drama, in particular revenge tragedy.
Roosevelt is interested in exploring the psychological cost of wearing a disguise—a common theme in revenge tragedies—and how that related to contemporary ideas on murder and revenge in Elizabethan and Jacobean England. The Folger experience gave her access to the perfect contemporary source, a pamphlet titled—take a deep breath here—The Cry and Revenge of Blood. Expressing the Nature and Haynousnesse of Wilfull Murther. Exemplified in a Most Lamentable History Thereof, Committed at Halsworth in High Suffolk, and Lately Conuicted at Bury Assize, 1620 (London: Nicholas Oakes, 1620).
In the late 1500s and early 1600s, pamphlet literature was a kind of contemporary version of tabloids, Roosevelt noted, dwelling on topics such as monstrous births and illicit affairs. Woodcuts were used to promote the books. The title page of The Cry and Revenge of Blood, for example, pictures people being stabbed, and a devil.
"Mine was written by a minister," she said of Cry and Revenge of Blood. "There's a lot of moralizing about what taking personal revenge does to your soul."
For Roosevelt, who plans ultimately to pursue a PhD in literature, the Folger seminar provided valuable skills while enhancing her credentials.
And of course there was the weekly tea, where she and her fellow students got to mingle with scholars and discuss their projects.
"This is my favorite part," she said. "It's wonderful."
Like a drama, Roosevelt considers her participation in the Folger experience a collaboration—in this case between herself, her professors, and AU's Career Center.
"Applying for this I got help from my professor [Deborah Payne Fisk], and I got help from Professor [Madhavi] Menon. And then one of the Career Center advisors, Marie Spaulding, helped me fix my résumé, my CV for this. It's not even a job or an internship, but she helped me fine-tune it."