Business
Kogod Students Dish Up Sweet Ideas for Ben & Jerry's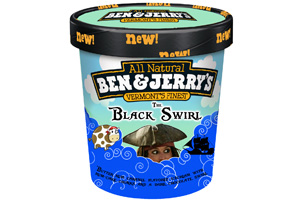 Chubby Hubby. Chunky Monkey. Cherry Serendipi-Tea?
Here's the scoop: Ben & Jerry's, the Vermont ice cream maker behind such iconic concoctions as Cherry Garcia and Phish Food, challenged 23 American University undergrads to develop the next great flavor, made with fair trade ingredients.
And AU's dessert wonks didn't disappoint, dishing up a sundae's worth of sweet ideas, such as:

Black Swirl: butter rum caramel ice cream with rum cake chunks and a dark chocolate swirl
Mangorita: lime margarita sorbet with chunks of mango
Fair Banana Flare: banana ice cream with dark chocolate-covered blueberries
Cherry Serendipi-Tea: green tea ice cream with cherries
On April 20, the flavor engineers—students in Kogod professor Mike Carberry's advertising and marketing communications class—presented their ideas to Sean Greenwood, Ben & Jerry's "grand poobah" of public relations.
"Did we have you all sign waivers so we can steal your ideas?" joked Greenwood after the first team presented Black Swirl, a flavor inspired by The Pirates of the Caribbean movie franchise. "This is brilliant."
The group, some of whom donned eye patches and swords, proposed partnering with actor Johnny Depp to promote Black Swirl, named for Pirates ship, Black Pearl. They described a "Jack Sparrow flash mob" on San Francisco's Pier 39, during which Depp and youngsters in pirate regalia would surround a Ben & Jerry's scoop shop, handing out samples of the new flavor. Proceeds from Black Swirl would benefit 826 Valencia, a children's writing center in San Francisco that operates a pirate supply store in order to fund its educational endeavors.
Another group pitched Cherry Serendipi-Tea—deemed the "best name of the night" by Greenwood—which would launch just before Washington's National Cherry Blossom Festival. Proceeds from the ice cream, made with fair trade cherries, would benefit disaster relief efforts in Japan.
Greenwood, who flew in from Ben & Jerry's South Burlington, Vermont, headquarters for the presentations, praised the students' creativity, social awareness, and enthusiasm around their creamy creations.
"I thought—and I've shared this with coworkers here at our corporate headquarters—that the AU students were well above average in terms of their presentations," he said. "[They] demonstrated an applied understanding of the importance of social responsibility and of Ben & Jerry's other core focus: having fun."
Although Ben & Jerry's works with other colleges and universities, the partnership with Carberry, a former New York ad executive, is unique. Ben & Jerry's is a client at Carma International, a media content analysis firm, where Carberry served as president. After he came to Kogod, Carberry leveraged his contacts to develop the Ben & Jerry's project, which is now in its fifth year at AU.
"Students always say, 'this is the best thing I've ever done.' They're getting real-world experience in promotions and advertising, and they're working with a big client with whom they're all familiar," said Carberry. "Students always rise to the challenge."
And for budding ad execs like senior Eli Susser , who worked on the Black Swirl team, the project was about more than a grade.
"This was our first crack at the real world of marketing. We wanted Sean to leave wondering, 'Why hadn't I thought of that flavor?'"