Alumni
Alum, Peace Corps Volunteer Wins $25,000 Scholarship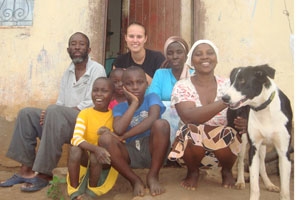 Swaziland has the highest rates of HIV infection in the world with a staggering 42 percent prevalence among pregnant women and one in four adults in the general population living with HIV. Justine Amos, AU graduate and Kansas native, arrived in Swaziland three years ago with a conviction that she could make a difference. Now, she's been awarded a $25,000 Doing Good Scholarship from the Stafford Foundation for graduate study at Tulane University — and aims to use her expertise to continue her work in Africa.
A Passion for Public Health Emerges
When Amos began her studies at AU, she took French and planned to study abroad in Europe. Her life's course changed when her world politics professor, Cindy Collins, discussed her own work in West Africa in class. Inspired, Amos researched the Rwandan genocide, and over subsequent semesters, studied in Nairobi, Kenya, and Durban, South Africa. By the summer of 2006, Amos led an Alternative Break to Zambia.
"Justine demonstrated remarkable leadership throughout the 2006 Alternative Break trip to Zambia," says Jessica O'Connor, CAS/ MA '06 grad and current Program Officer with USAID. "She initiated partnerships with local NGOs, which resulted in volunteer experiences for the students and much needed assistance for organizations working to help orphans and vulnerable children."
By her senior year, Amos understood in some measure the stigma and cultural barriers that perpetuate HIV/AIDS in many African communities. By the time she graduated, Amos was ready to try her hand at changing attitudes, through a 27-month Peace Corps placement in Swaziland.
Peace Corps Makes the Difference
In Swaziland, she worked with a support group for HIV-positive children; taught HIV-positive women — mostly widows — to make jewelry for sale to gain financial independence. She helped sex workers start a car wash and restaurant to create an alternative source of income. She raised $9,000 through Peace Corps' Partnership Project to dig a well and install a series of pumps and taps. She painted billboards about HIV prevention and other health issues; for school children, she painted curriculum murals and maps on school walls to replace those in colonial-era textbooks. "And I did a hundred other things I can't even remember because it seemed more like my life than my job."
By far, Amos's host family made the most lasting impression. Living with Mkhulu (grandfather), his three wives, an "inherited" sister-in-law, and 14 children, Amos saw the realities of Africa's lost generation firsthand. Grandparents raise grandchildren. Children support children, because AIDS has struck down the generation of breadwinners and parents in between. Amos was the one to convince her pregnant host sister to take her antiretroviral medication and went with her to prenatal visits. She gave her lessons in nutrition and health.
Amos's host sister delivered a healthy boy, who continued to test HIV negative up to his first birthday. "I felt so lucky that I'd gotten to be a part of that, and that one success story is something that kept me going when I felt like I wasn't making a difference," Amos reflects.
Awarded for Service
Recognizing Amos for all her work thus far, the Stafford Foundation — a faith-based funding organization focused on ensuring people have the opportunity for self-reliance and lives of dignity — has awarded their largest scholarship to Amos.
This fall, Amos will begin working toward her master's in public health at Tulane, concentrating on international health and development, specifically infectious disease in Africa. Her goal is to one day work with rural or migrant communities in East or Southern Africa.