Environment
Life's Better on Two Wheels for AU's Bike Commuters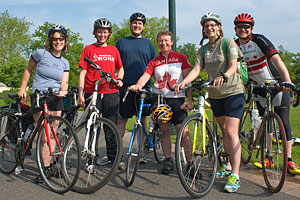 Friday, May 20, marked National Bike to Work Day. But for AU's committed cyclists, every day's a holiday.

"I love to disregard NPR's traffic reports in the morning," said Sharon Metcalf, senior director of strategic partnership and programs, School of Communication (SOC), who bikes or walks three miles to work twice a week. "The challenge is that it's uphill going to the university, but a breeze coasting downhill on the way home."

According to the 2009 American Community Survey, Washington ranks 27th among the most bicycle-friendly cities in the country. Boasting more than 100 miles of bike lanes and paths, D.C. is home to 6,306 bike commuters—about 2.2 percent of all Washington commuters.

And whether they weave through the city streets or wind along serene, tree-lined trails, AU's bikers agree: life's better on two wheels.

"You can never really see a city from behind a windshield," said Brian McEntee, graduate academic advisor, School of International Service (SIS), who pedals 13 miles round-trip from Arlington. "Every day, my ride is different."

In honor of National Bike to Work Day—now in its 55th year—AU commuters who prefer a Schwinn to a Chevy, a mountain bike to a Metro card, shared their cycling stories and styles with American Today:

Nate Harshman, Meddler Pedaler. The physics professor, who bikes two miles to campus from Friendship Heights, is a civic-minded cyclist. "Twice last year I biked by a burst water main and called the D.C. Water and Sewer Authority hotline. I'm a meddler pedaler."
Joe Clapper, Hard-Core Cyclist. Ten times a month, Clapper, SIS assistant dean of facility and administration, rides 21 miles—each way—to AU. Not only does he get 2.5 hours of vigorous exercise and help reduce his carbon footprint, Clapper also saves plenty of green. "It costs about 60-cents a mile to operate a car. My bike costs about 3-cents a mile," he explained. That adds up to $25.20 per day in the car versus $1.26 per day on the bike.
Erin Nixon, All-Weather Biker. Nixon, senior administrative assistant, Department of History, has biked to work every day for the last three years. "I don't have a car… so I bike in every type of weather: rain, shine, snow, or ice," she said. Despite being hit by a van during one particularly harrowing morning commute, Nixon said she enjoys biking to work "because it gives me time to myself—even if there's snow involved."

John Douglass, Kodak Moment Commuter. Director of SOC's Film and Media Arts Division, Douglass bikes to work two to three times a week depending on the weather. "The best part is coming down the sidewalk along Nebraska Avenue by the Japanese embassy in the spring when the cherry blossoms are out," he said. "Biking puts you at the right height so you feel like you are surrounded by the blossoms."
Steven Taylor, Interstate Cyclist. As long as the temperature is 50 degrees or higher, the government professor bikes seven miles from Silver Spring to AU. He rides past Meadowbrook Stables on the way home and often stops to look at the horses.
Patrick Thaddeus Jackson, Dual Commuter. The director of the General Education program takes the Metro for part of his 23-mile commute from Alexandria. His folding bike—easier for negotiating rush hour traffic—often sparks conversations on the train. "I think I've made several converts to bike commuting," Jackson said.
Pat Aufderheide, Weatherproof Cyclist. The director of SOC's Center for Social Media has had "some truly wonderful commutes in pouring rain"—thanks to her gear. In the winter, she sports ski clothes for the 10-mile ride; when it rains, she wears kayaking gear. "I love riding my bike to work because it gives me some time outdoors every day and reminds me of the enormous world beyond my petty concerns," she said.
Eve Bratman, Uphill Biker. The SIS professor bikes seven miles from her houseboat in Southwest D.C. along the waterfront trail and uphill through Georgetown. Despite the grueling, uphill stretch, Bratman—whose bike odometer just crossed the 1,100-mile mark—is on campus in 38-minutes.
Kathryn Ray, Eight-Minute Commuter. By the time the rest of us have pulled out of the parking garage, Ray, a reference librarian, is already home. "I have a dream commute that takes me about 12 minutes [in the morning] and only 8 minutes to get home since it's all downhill," she said.