On Campus
A Week of Kudos and Fun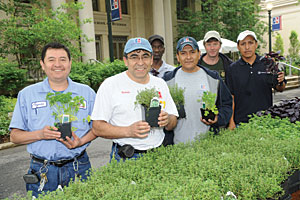 Every year in mid-May, after graduating students and their families have been lauded and applauded, AU spends a week celebrating the work, skills, and talents of its staff.From the joys of baking and tasting prized cupcakes, swinging a paddle at Wii, and showcasing various talents to more serious business like learning about your health numbers and your financial numbers, it's a week about "Us." 

Cupcakes and Co. (May 16)
From orange creamsicles to S'mores, there was something to tease everyone's tastebuds at the annual cupcake challenge. (Check out the winning recipes here.)

Three judges—Ann Kerwin; Patrick Ledesma, University Center; and Todd Bracken, owner of Frosting, A Cupcakery—sampled sweet treats from 18 staffers and selected three winners:

Sarah Jones, key lime cupcakes—best traditional

Rene Kauder, chocolate-covered strawberry cupcakes—most original
Linay Foreman, pineapple upside down cupcakes (a closely-guarded family recipe)—fan favorite
Those who didn't bake Wii bowled. Also that day, the first-ever AU's Got Talent competition showcased eight of AU's best and brightest.


Staff Performance Award Winners and 5–, 10–, 15–years of service lunch (May 17)
More than 150 AU staff were honored for their years of service. Winners of the outstanding service to the university awards were: 
Kogod School of Business Facilities and Faculty Support Team: Joanne Espinoza, Sophia Florestal, Rene Kauder, and Erin Phillips, Customer Focus Award
Chris Husted of the Greenberg Theatre, Customer Focus Award

Strategic Branding Initiative Team, UCM: Maralee Csellar, Matthew Fredericks, Jamie Hardin, Jon Hussey, Alison Kahn, Linda McHugh, Jel Montoya-Reed, Caroline Sheedy, Natalie Taylor, Jeffrey Watts, Deborah Wiltrout, Teamwork Award
Robert Kelshian, AU Library, Innovation Award
Alicia Mandac, CAS, Service to the AU Community Award
Sherry Weaver, WCL, Diversity Award

20-Year Club Dinner (May 18)
This year, 18 full-time staff were welcomed into the "20 Year Club." For their two decades of service, these new inductees joined others who've long served AU, for an invitation only dinner at the Katzen Arts Center.


Staff Appreciation Day (May 19)
Even a little rain couldn't dampen staff's spirits as they gathered on campus for the annual Staff Appreciation Week. From free herbs to free lunch, amazing race to board games, and health screenings to complimentary massages, there was something for everyone. The Annual Staff Volleyball Tournament was delayed due to rain and has been rescheduled for Friday, May 27.