Television & Film
Hawkaholics Debut in SOC-CAS Collaborative Film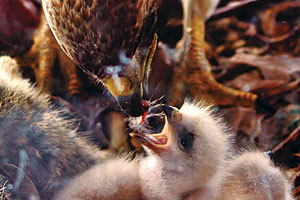 A baby hawk lifts a fluffy wing and nuzzles billowy down with her beak. All over Philadelphia, in homes and office buildings, thousands of hawkaholics tune in on their computers to watch reality TV taking place in a nest nearby. It's a live webcam feed from a third-floor ledge: hawks, uncensored.
Under the executive producer, School of Communication professor Maggie Burnette Stogner, the video feed becomes just part of the story of how two hawks captured the hearts of Philadelphians in Hawks in the City.
The film documents the city's infatuation with the feathery couple making their home outside a window at the Franklin Institute, one of the oldest science museums in the United States.
The monogamous duo has spent three nesting seasons laying, hatching, and raising clutches of young eyases (baby birds). Street-side bird watchers, webcam footage, and an avian medical emergency populate the documentary short.
"Other than supplying [the SOC students] with the raw data and some day-to-day material, they took it upon themselves to cut it, and they wrote the narration," explains Richard Rabena, vice president for operations and capital projects at the Franklin Institute. "We couldn't have been happier with the final job."
Hawks in the City originated as a class project in Stogner's Advanced Media and Advanced Writing for Documentary classes in spring 2010. With a $1,500 donation from the Franklin Institute to cover costs, film and media arts student Aditi Desai took the lead as producer. SOC alum Mike Hyde served as editor, and student Irene Magafan narrated. These SOC team members  joined forces with CAS audio technology alum Mike Estler, who managed voice-over recording, sound design, and mix.
"I'm just very proud of these students," said Stogner of the professional quality film. "To the Franklin Institute, the hawks represent a living science exhibit — perfect for their educational mission, and it worked out perfectly for our educational mission to let students work on real projects that have meaning and can educate the public in meaningful ways. And," she adds, "it was fun."