On Campus
These Recipes Take the (Cup)cake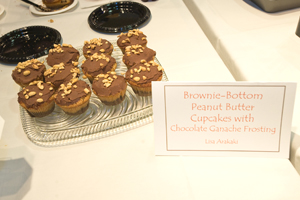 Three baking wonks who topped the Staff Appreciation cupcake challenge share their winning recipes:

Best Original Cupcake:Chocolate Covered Strawberry Cupcakes
Rene Kauder, senior manager, Facilities and Event Operations, Kogod School of Business
Chocolate cupcakes

1/4 cup plus 2 tablespoons cocoa powder
1/2 teaspoon espresso powder
1/4 teaspoon plus a pinch of salt
Preheat oven to 325 degrees convection. Bring coffee and butter to a simmer in a heavy saucepan over medium heat. Add cocoa powder and whisk until mixture is smooth. Cool slightly.

Whisk flour, sugar, baking soda, and salt in a large bowl to blend. Using electric mixture, beat eggs and sour cream in another bowl to blend. Add stout mixture to egg mixture and beat until combined. Add flour mixture and beat briefly on slow speed.

Fill liners 2/3 full. Bake about 17 minutes. Cool cupcakes on wire rack completely.

Ganache filling

4 ounces bittersweet chocolate
Place chopped chocolate in a heatproof bowl. Heat the cream until simmering and pour it over the chocolate. Let sit for one minute and then stir until smooth. Add the butter.

Strawberry Swiss meringue buttercream frosting
Makes enough for 36-48 cupcakes (depending on how much frosting you like)

6 egg whites (room temperature)
1 and 1/2 cup granulated sugar
1 and 1/2 pounds room temperature butter (cut into one inch pieces)
1 tsp of pure vanilla extract or vanilla paste (more if you want a stronger vanilla taste)
Pint of fresh strawberries (washed and dried thoroughly)
Whisk together the egg whites and sugar. Place your bowl over simmering water and continue to whisk making sure the egg white mixture does not harden on the sides of the bowl. Insert a candy thermometer and continue whisking making sure the temperature of your mixture reaches 140 degrees. After the mixture reaches 140 degrees, move the bowl to your stand mixer with the whisk attachment.Whip hot mixture on high until cool. Egg white should start to look lighter in color. Add your butter in small pieces on low to medium speed. Once all the butter is added, bring the mixture back up to a high speed. Turn off mixer and add your flavoring. Continue to whisk until incorporated.

Puree or chop your strawberries. Wait until you are ready to use your frosting before adding fresh fruit. When adding the fruit, add in small batches. You may or may not need all the strawberries you pureed; the frosting will let you know when it has had enough. If you add too much, you may "break" the frosting and it will become runny.

Top with a chocolate dipped strawberry.


 

Best Traditional Cupcake: Key Lime Cupcakes


Sarah Jones, academic counselor, SPA

Cupcakes

1/3 cup key lime juice (if you can't find key limes, I suggest Nellie and Joe's key lime juice, which is from Key West)
1/2 box lime flavored gelatin (approx 1 to 1.5 ounces)
2 to 3  tablespoons key lime juice
Frosting
1 package  cream cheese (do not use low fat)
3 1/2 cups powdered sugar
Preheat oven to 350 degrees. In a mixing bowl, mix cake mix and gelatin. Add 3 eggs, 3/4 cup water, 1/3 cup key lime juice, and 1/3 cup vegetable oil. Beat for about 2 minutes until smooth. Fill cupcake cups (in muffin pan) evenly. Bake for about 18 minutes. Let cupcakes cool in pan for 10 minutes, then remove and place on a cooling rack.

While cupcakes are cooling, make a key lime glaze for the cupcakes. (This is not the frosting.) In a bowl, mix 1 cup powdered sugar with 2 to 3  tablespoons key lime juice (depending on how tart you want the cupcakes to be.) Mix until glaze is smooth. Then puncture the cupcakes with a skewer (or toothpick) in several places creating several small holes for the glaze to seep into. Once you have created the holes, you can drizzle the glaze over the cupcakes.

To make the frosting, mix softened cream cheese with butter until fluffy. Add vanilla and powdered sugar. Frost the cupcakes using a frosting gun or bag and then add key lime zest to the top.




Bananas Foster Cupcakes

Linay Foreman, staff assistant, Facilities Management (Linay won for her pineapple upside down cupcake, but that's an heirloom family recipe, so she offered her other recipe, and promised everyone came back for seconds of this, too.)

Bananas Foster

1/2 cup brown sugar packed
1/2 tsp freshly grated cinnamon
2 firm but ripe bananas, sliced (like chips)
1/2 tsp bourbon based vanilla extract
In a saute pan over medium heat, combine the butter, brown sugar, and cinnamon. Cook until butter melts and sugar is dissolved (about 4 to 5 minutes). Add the banana slices and cook until tender. Stir together rum and vanilla. Turn off the burner and add the rum mixture to the pan. Using a long match, light the alcohol by placing the flame just in the outer edge of the pan. Stand as far back as possible. The flame should extinguish in a few seconds. Gently shake the pan from side to side to coat the bananas with the sauce. Spoon the bananas into a bowl and set aside.
Cupcakes
1/4 tsp salt (do not use Kosher salt)
3/4 cup unsalted butter, softened but not melted
1 1/2 cups granulated sugar
1 tsp bourbon-based vanilla extract
3/4 cup Breakstones sour cream
Preheat oven to 350 degrees. In a large bowl, cream butter and sugar with electric mixer until light and fluffy. In a medium bowl, combine the flour, baking soda, and salt. Add eggs, vanilla, rum and banana mixture. Mix well. Add flour mixture alternately with sour cream; blend thoroughly but do not over-mix. Pour into prepared cupcake pans. Bake 20-25 minutes or until toothpick inserted comes out clean. Cool for 1-minute in pan on rack. Remove and cool completely before frosting.

Frosting

8 oz. Philadelphia cream cheese, softened (room temperature)
3 tbsp homemade or store bought caramel sauce (I use Smuckers from the ice cream aisle)
3 cups confectioners or powdered sugar
1-2 tablespoons half and half
1 tsp of freshly grated cinnamon
1 and 1/2 tbsp of banana extract
In a large mixing bowl, beat the softened butter and cream cheese together until fluffy; add the caramel sauce and beat until fully incorporated. Slowly add confectioners/powdered sugar into the bowl, 1/2 cup at a time and beating after each addition. Continue adding the sugar until it is all mixed in. If the frosting is too thick, add a tablespoon or more of half and half to thin out.

After the cupcakes have cooled, frost with the banana cream frosting. Top with a fresh slice of banana and drizzle with caramel.