First Person
Student Diary: AU Freedom Rider Retraces 1961 Trip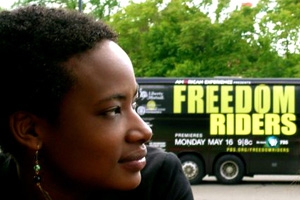 Fifty years ago, a group of brave college students boarded buses bound for the segregated south. The Freedom Riders, as the civil rights activists were known, set out to challenge laws that enforced segregation throughout Virginia, the Carolinas, Georgia, Mississippi, and Alabama. The ride would change the course of history.
This month, American University junior Tania Smith was among 40 college students selected to retrace the historic 1961 Freedom Rides for PBS's American Experience. A native Haitian, the international studies major in the School of International Service chronicled the journey from Washington, D.C., to New Orleans for American Today.

May 6, 2011: Newseum, Washington, D.C.
We had a kickoff event for the Freedom Rides at the Newseum in D.C., where we watched the movie Freedom Riders and attended a book signing for Congressman John Lewis' (D-Ga.) new book, A New Wind.
After the film there was a panel discussion with Stanley Nelson, the filmmaker, several original Freedom Riders, and Ray Arsenault, the author of Freedom Riders. One of the panelists, Diane Nash, who coordinated the Freedom Rides after members of the Congress of Racial Equality (CORE) aborted the mission, said, "I would like for American citizens to understand that voting is very important but it is not enough."
As a college student, I have to be aware that my actions will affect the generations that come after me, therefore I have to take an interactive role in implementing change in my community.

May 8, 2011: Mary Washington University, Fredericksburg, Va.
Yesterday, Freedom Rider Diane Nash said that the in order for a nonviolent movement to be effective, it's important to determine how the oppressed are contributing to their own oppression. Nash noted that every time she entered a segregated room with the sign "colored only," she felt as if she were validating the fact that she was inferior. I learned that oppressed people cannot be oppressed without their own consent.
Today as we celebrated the legacy of the Freedom Riders at Mary Washington University in Virginia and the accomplishments of James Farmer, the leader of CORE, I realized the magnitude of what the Freedom Riders had done. College students confronted the institutional injustices of the Jim Crow south and declared they would no longer be treated as less-than-human.
Later when we visited Farmville, Va., the theme was the same. In 1959, a group of brave high school students there protested their poor school conditions and demanded an educational standard equal to their white counterparts. In response, Farmville shut down its public schools for five years rather than desegregate.
So, how are we contributing to our own oppression? We are by no means facing the same issues that the Freedom Riders faced, but this country still has much progress to make around education, healthcare, and immigration.
May 9, 2011: National Civil Rights Museum, Greensboro, N.C.
After a night in Lynchburg, Va., we headed to Greensboro, N.C., to visit the National Civil Rights Museum, the site of the first sit-in protests of the Civil Rights Movement. The museum had the lunch counters that the students sat at when they led their first sit-in. What stuck out to me was an old Coke machine that was split in two with a wall separating each side. On the "white" side, Coke only cost 5-cents. On the "colored" side, the price was 10-cents. Even a vending machine vending was not spared from racism.
The room that stood out the most to me was the "Hall of Shame." In this hall were some of the most gruesome images of the Civil Rights Movement. There was a picture of Bull Connor, the police chief of Alabama, letting police dogs loose on the civil rights protesters. There was a picture of Jim Zwerg, a white Freedom Rider who was bloodied and beaten after being ambushed by white mobs at a Trailways bus station in Alabama. The picture that made me stop in my tracks was the picture of Emmet Till in his casket.
Emmet Till was a 14-year-old lynching victim killed in Mississippi for whistling at a white woman. The picture showed that Till's body had been mutilated beyond recognition, his nose was broken, one of his was eyes missing, and he had a bullet hole to the temple. His mother stood next to him, wailing in agony. I was overcome with emotion, as it symbolized the pure hatred that prevailed during segregation.

May 10, 2011: House of Prayer, Charlotte, N.C.
We had breakfast at the House of Prayer in Charlotte, N.C., where one of the CORE leaders, Charles Jones—a charismatic 73-year-old—told us that we, as college students, give him hope for the future. He said we're continuing the legacy of the Freedom Riders, promoting equality in our own communities and around the world. After breakfast, as we got on the bus to Winnsboro, S.C., Charles led us in an emotional rendition of This Little Light of Mine.
As we sang along, I realized my responsibility to let my light shine. My entire generation has a responsibility to let our lights shine.

May 11, 2011: Ebenezer Baptist Church, Atlanta, Ga.
This morning we headed to Atlanta, Ga., to the Martin Luther King Jr. Memorial and Ebenezer Baptist Church where Dr. King preached. It was amazing being in the place where King's sermons inspired thousands. We got to sit in the pews where his church members sat as a recording of one of King's Sunday sermons cascaded over us.
Next we headed to Anniston, Ala., where in 1961, a Freedom Riders bus was mobbed and firebombed on the side of the road. What stood out to me were the tears on Charles Person's face. Fifty years ago, he was on one of the buses that was mobbed in Anniston. He could barely contain himself as he exited the bus and entered the banquet hall. At the dinner table I saw his raw emotion.
The evening got even more emotional. After dinner we visited a photo exhibit that chronicled the bus firebombing. A man stood up and introduced himself as the son of a man who had been in that mob 50 years ago. His voice shook as he told the original Freedom Riders in the room how shameful the event has been for him and his family. He apologized and embraced Hank Thomas, one of the Freedom Riders who was on the burning bus, saying, "I would like to welcome you to my town."

May 12, 2011: Anniston, Ala.
This morning at breakfast the mayor of Anniston gave the most interesting farewell speech I have ever heard. He made no mention of the Freedom Riders, their accomplishments, or the 50th anniversary of the Freedom Ride. Instead, he spoke about Anniston's economy and how the town was trying to rebuild. He said Anniston was a great place to invest and that we should "come on back" to Anniston to start our own businesses, because, as he put it, "we ain't bad people."
While I understand that Anniston is facing economic hardship, I was not expecting the mayor's last speech to be a sales pitch for the town. Next we went to the dedication of a memorial at the Greyhound terminal where the Freedom Riders bus was mobbed. There were two buses mobbed that day, a Greyhound and a Trailways bus. The site where the Trailways bus was mobbed also had a memorial — a Trailways bus painted on a wall with a sign above it that read "The Other Bus." That was it. The other bus.
I feel like that's how some people view race relations in the United States. Not only is there a lack of acknowledgment that racial prejudice still exists, it is often seen as somebody else's problem.

Now the issues aren't just about racial prejudice. But how can we deal with these problems if some of us refuse to acknowledge they exist?

May 13, 2010: 16th Street Baptist Church, Birmingham, Ala.
Today we headed to Birmingham — dubbed "Bombingham" due to the violence perpetrated against its black citizens. The city had a racist and violent police commissioner, Eugene "Bull" Conner, who turned Birmingham into a bigoted police state.
We visited the Birmingham Civil Rights Museum and the 16th Street Baptist Church, which Klan members bombed in 1963, killing four innocent, little girls. Despite its tumultuous past, the 16th Street Baptist Church is a symbol of hope for the future. That evening, we listened to the church's Carlton Reese choir sing songs from the Civil Rights era, songs that inspired a generation to — as one choir member put it — "get out of our seats and into the streets."
Original Freedom Rider Earnest "Rip" Patton said: "Music lifts your spirit. Music [made] the prison guards mad because they didn't understand how we were in prison, yet we could sing songs of joy. Music keeps us together. Music is the glue of the movement."
May 14, 2011: Southern Poverty Law Center, Montgomery, Ala.
We rode the bus to Montgomery, Ala., where we visited the Southern Poverty Law Center and the Rosa Parks Museum. That evening we listened to a talk by Jim Zwerg, a white Freedom Rider who was horribly beaten by a mob at a Greyhound bus station in Montgomery. The beating he suffered became the rallying cry for other Freedom Riders to continue their movement to desegregate the interstate bus system and challenge the segregation laws of the Jim Crow south.

Jim spoke about his dedication to the nonviolence movement and how he applies those principals to his daily life. It was remarkable that Jim, who had been beaten so badly, emerged from that experience without bitterness or animosity. Nonviolence teaches you to hate the institutions that permit and enable injustice, not the person: hate segregation, not the segregationist. Nonviolence demands a certain kind of selflessness. With all their sacrifices, the Freedom Riders had no idea how much of an impact their movement would have 50 years later. I thought about my own student activism and the issues I've taken a stand on. Would I have been able to get on that bus and make a change — even under the threat of death? I've been asking myself that throughout the trip, and I believe I would. Martin Luther King Jr. once said: "In the end, we will remember not the words of our enemies, but the silence of our friends." I hope to never be that silent friend. We should never remain silent.

May 16, 2011: New Orleans, La.
Yesterday we left Jackson, Miss., and headed for New Orleans, the final destination of our trip. For the four original Freedom Riders on board the bus with us, this had a special significance. They were never able to make it to New Orleans 50 years ago because they were thrown in Parchman, the Mississippi State Penitentiary. As our bus pulled into New Orleans, a large crowd welcomed us. There was a huge street fest with trumpets and drumming. We sang and danced. During the street fest, white doves where released in the memory of fallen Freedom Riders. New Orleans reminded me of Haiti. The people and culture are almost the same. I felt at home.
As I watched my fellow student riders dance and sing with the original Freedom Riders, I reflected on what this trip has brought me. It has helped me to become more open-minded and tolerant. Through our experiences and engaging with students on the bus, I realized the power of nonviolence. It made me appreciate the importance of history and how an understanding of the past can illuminate the questions of the future. This trip also helped me to realize how much the Freedom Riders and others sacrificed and endured in order for me to be where I am today. I am forever indebted to them.
The trip has reinforced my belief that young people, particularly college students, have the power to initiate positive change in their communities and the world. There is power in the youth.