Research
From TV as Sex Educator to Chinese Psyche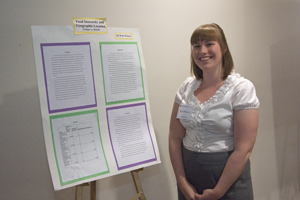 The pleasure-altering effects of alcohol on cocaine. Changes in the Chinese psyche with movement toward a free market. Television as sex educator.
The range of papers, presentations, and posters at this spring's student research conferences was truly impressive.
Clearly, the trend toward supporting student research at AU has paid off.
"I think this conference is a great starting point for young scholars," said Mary Anne Hutchison, a PhD student in the behavior, cognition, and neuroscience program. She should know: Her presentation won an award at the CAS student research conference.

Check out some of the outstanding work from students in the College of Arts and Sciences, School of International Service, School of Public Affairs, and the University Library Prize Winners:

Mary Anne Hutchison, PhD student in behavior, cognition, and neuroscience (CAS)

How alcohol alters the rewarding effects of cocaine

"Adolescent alcohol use seems to make cocaine more rewarding. Specifically, animals that had a history of alcohol needed less cocaine to show the same reward response. Even though we saw the same thing with animals exposed to alcohol as adults, which means it's a factor of the drugs rather than the age of initiation, alcohol use commonly begins in adolescence so this is the socially relevant age for looking at intervention strategies."

Kate Lindsey '11, CAS
Preventing language death
Lindsey's paper follows "Picard (France), Central Atlas Tamazight (Morocco), and Chuvash (Russia) to identify the moment when language death begins and resultantly prevent it . . . My research has shown that this moment correlated exactly with a significant loss of linguistic prestige in all three languages."
Lindsey traveled to Russia and Morocco to produce a research paper that "blends together three sociolinguistic histories of these little documented languages."

An Honors Capstone conference winner

Alex Rose-Henig, BA/MA program in experimental and biological psychology, CAS

HPA activation and dominance formation in rats
"I wanted to research this topic because I think that the huge number of behaviors which are influenced by the HPA axis [the hypothalamic-pituitary-adrenal axis] is incredibly interesting," Rose-Henig said. "I also think that often in the biological sciences we place a huge amount of emphasis on the genes, whereas my research attempted to show a biological mechanism for the influence of the environment on the particular set of behaviors I was observing."

Katie Hanson '13, SPA and CAS

Food insecurity and geographic location
While Hanson's study found no statistically significant relationship between geographic location and food insecurity it did support "previous research done on the relationship between food insecurity and geographic location," namely, "patterns of coping with food insecurity show that urban food insecure families are more likely to rely heavily [on] food assistance programs, finding that they are perpetually suffering from food insecurity.  Rural food insecure families, however, are more likely to participate in reciprocal economies, and have more access to fresh fruits and vegetables from local gardens."

David Rubin '13, SIS
Changes in the Chinese psyche
"Given data analysis, a shift in values from a culturally collectivist identity to a culturally individualist identity is expected as income levels have risen and the Western undertones and values present in capitalism have proliferated into China."

An SIS conference prize-winning paper
Rubin will travel to China next year to study abroad.

Adrienne Elkin '12, SIS
Human trafficking as national security threat
"'Human trafficking' amongst U.S. citizens is perceived as a 'feminist' undertaking and an issue that affects only underdeveloped states, excluding the U.S. This mentality is what ultimately leads to lack of concern on the part of our government and policymakers."
An SIS conference prize-winning paper

Amanda Merkae '11, SPA

TV as sex educator
MTV reality shows like 16 and Pregnant are not a "silver bullet" for preventing teen pregnancy. But they can "start the conversation. The National Campaign to Prevent Teen and Unplanned Pregnancy has isolated that parental involvement in teens' lives, specifically constant dialogue between teens and parents, is the number one deterrent for risky sexual behavior. So if a program like 16 and Pregnant can start that dialogue, then it has done its job."   

Mary Jane Egan '11, SPA
Views on abortion rights among military personnel
"Military women on deployment are often at high risk for unplanned pregnancy, yet also rarely able to avail themselves of the care needed to ensure unit cohesion and military readiness . . . While abortion is technically legal, current Defense Department policy prohibits female service members from obtaining an abortion at any military facility in the world except in cases of rape, incest, or life endangerment."
Egan will attend the Officer Candidates School in Quantico, Virginia, to earn a commission in the U.S. Marine Corps.

Kelsey Stefanik-Sidener '11, SPA
Media coverage of diabetes
"A content analysis of 239 articles published in The New York Times between 2000 and 2010 revealed that nearly one-third of articles failed to differentiate between type 1, type 2, and gestational diabetes, which may cause confusion among media consumers given that the types of diabetes vary substantially in root cause and treatment."

An Honors Capstone conference honorable mention.

University Library Prizes
2011 University Library Prizes for Outstanding Undergraduate and College Writing Research Papers and Projects
A $1,000 prize was awarded to:

• Lorraine Holmes '14 for her paper "The United States Holocaust Memorial Museum"
• Casey Petroff '13 for her paper "The Ends and the Means: Energy Policy and the Collapse of the Soviet Union"