Education
Nigerian Trip Takes SETH Students out of  Classroom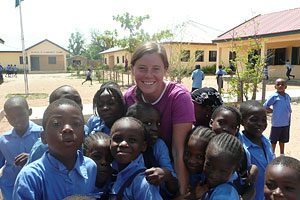 For graduate students, study abroad can present challenges beyond the usual cultural and logistical problems.
They often have jobs and families and responsibilities.
But seven students in AU's School of Education, Teaching, and Health's (SETH) International Training and Education Program overcame those limitations this spring to spend two weeks in the first SETH joint graduate exchange program with AU of Nigeria (AUN). There they conducted field studies of schools and universities, visited health facilities, talked with students and educators — and went on a safari.
Blog entries from graduate student Lauren Lopez show just how challenging — and exhilarating — the trip was for the students and Bill Churma, a SETH graduate student who helped create the course and coordinate and lead the trip.
May 16
"All of the public schools here are so different and there is very little consistency in regards to curriculum and teacher training," Lopez blogged. "The village school where I was today had four teachers per classroom — talk about a waste of resources. The class sizes were even small. Each teacher teaches a different subject and while they are waiting for their turn to teach basically lounge around outside and mingle amongst themselves. The children really aren't learning anything as the curriculum is based off of American material and they are teaching lessons that aren't relevant to their culture."
May 17
"Today I visited an Organization called Spring of Hope. This visit was probably the most incredible, rewarding and intense experience I have ever had . . . Farah [an HIV positive woman who runs the organization] has been living with HIV for 9 years now and lost both her son and husband to the disease. She is the most passionate woman I have ever met and really makes a difference in lives around the community by discussing the issue that is rarely addressed due to stigmatization."
Before going on the trip students completed online coursework and designed their individual research projects.
Some topics the students explored:
access to education for disadvantaged youth
teacher training in Nigeria
civics education — how citizens are formed
literacy education
prekindergarten education
The experience was a success both educationally and culturally, Churma said.
"We were in the AUN bubble in Yola [the city in which American University of Nigeria is located] with many amenities" such as cafeteria meals, he said. "But as soon as we left AUN we were in a rural part of Nigeria, which was really cool."