International
Dinner with Bill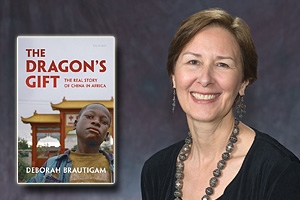 There are dinners and there are dinners.
For a scholar devoted to researching Chinese aid and economic development in Africa, a chance to dine with Microsoft cofounder and Gates Foundation cochair Bill Gates to discuss a topic she's devoted decades to researching — and to have that meeting in Beijing — was a memorable experience, to put it mildly.
The early June dinner came about after Gates Foundation staff contacted SIS professor Deborah Brautigam several months ago. Gates was preparing to travel to China — the foundation is deeply involved in fostering trilateral cooperation between China and Africa and is interested in collaborating with the Chinese. So the staff wanted to fly her out to Seattle to talk with her as part of Gates's preparation for the trip.
"And I said, 'well, I can't. I'm just totally booked up right now.' I said, 'but I'm going to actually be in Beijing while he's there,' and I let that drop."
She was traveling to Beijing to attend a meeting of the China-Development Assistance Committee Study Group, which has been meeting for two years to foster mutual understanding between Chinese involved in foreign aid and DAC member countries.
Then came the invitation to meet Gates. "And during that they said that Bill's reading your book and he loves it."
The book, The Dragon's Gift: The Real Story of China in Africa (Oxford University Press), is based on Brautigam's extensive research and travels in the region. Susan Shirk, director of the University of California Institute on Global Conflict and Cooperation, blurbed, "If you want to know what China is really doing in Africa, this is the one book to read."
Brautigam describes the dinner on her Web site, "China in Africa: The Real Story," this way: "After attending a small informal dinner last week in Beijing with Bill Gates, a couple of Chinese experts, and a trio of Gates Foundation staff, I can confirm that he did read The Dragon's Gift. He sprinkled analysis, and references to it throughout the evening's conversation. If it had been a seminar, I would have given him an A."
The dinner, which included multiple courses of Western food and took place in a private dining room on the 18th floor of the Westin hotel in Beijing, was supposed to last from 7 to 8:30 p.m. Instead, it ended at 9:40 p.m.
Brautigam emphasized in an interview that dinner discussion was not devoted solely to her book, but focused on China and Chinese engagement in Africa and what role China might take as a member of the G-20 group of nations.
"He was interested in how countries in Africa might benefit from China's rise, what kinds of innovations are the Chinese developing, how were they investing, what kinds of initiatives are they undertaking in Africa in terms of development."
Brautigam, who has agreed to become a consultant with the Bill and Melinda Gates Foundation, will help discover ways to engage the Chinese in joint endeavors in Africa. For the coming year she's also a visiting fellow at the International Food Policy Research Institute.
But enough about policy. Inquiring minds want to know: What is Bill Gates really like?
"Everybody asks that," Brautigam said with a laugh. "He is very easygoing. He is funny. He's friendly. He's sort of like one of these geeky guys that is really nice. And when I say geeky I mean it in the most friendly sense. He's smart and sort of eager to learn and completely unselfconscious and unpretentious. Absolutely unpretentious."
Who else does she wish would read the book? Secretary of State Hillary Clinton.
"I really wish she had read my book before she went to Africa," Brautigam said. "She made a couple of comments about China's role there [Clinton cautioned against a 'new colonialism' in Africa] that have been relayed a lot in the African press and the Chinese press, and I think if she had read my book she would have maybe tempered the comments differently."