Alumni
Fringe Festival Show Has AU Star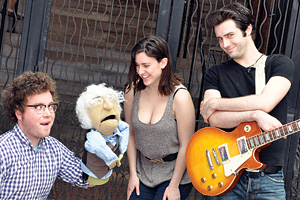 John Fritz is f#@king up everything.
"My character is a real jerk," says Fritz, CAS '11, who plays the lead in the rock musical F#@king Up Everything, which runs through Aug. 15 at the Woolley Mammoth Theatre in Washington. "The theme of the show is basically when people aren't really true to who they are, they end up f#@king everything up."
Profanity aside, the show, running as part of Washington's Fringe Festival, has garnered rave reviews during performances in New York. Landing the lead role was a coup for Fritz, a professional actor who credits much of his development to his time at AU.
"I feel like the acting classes have gone a long way in terms of preparing me for what it's like out there," he said. "The best part about it is the connections I've made through AU are going to last a while. It's a combination of really solid foundation in the arts as well as the networking and business side."
In his biggest professional gig yet, Fritz plays Jake, the lead singer for the band Vanillaroma. It's a role he's particularly well suited for, since he's a guitarist who once played in a band called Mass Ave. Playing alongside of him then, and in Vanillaroma, is Jeremy King, CAS '09.

"The show beautifully toes the balance between in-your-face rock attitude and sensitivity," said Fritz, who heard about the auditions on Facebook. "It's the perfect marriage between full-on rock concert and a musical theatre show."

The Capital Fringe Festival is "the only major unjuried, self-producing, open-access festival in the Washington, D.C., area." Held every July, it provides a boost to the local arts scene during a time when stages have historically been dark.
"I think it's a great place for up and coming people to showcase new work and earn a paycheck during what is a typically an off time," Fritz said. "I think it really fills a lovely niche in that it is off the beaten track enough so that you're allowed to take risks but has enough notoriety that you're always going to have an audience."
Those who already have seen F#@king Up Everything seem to love it.
"The play is major entertainment," wrote Duncan Pflaster on BroadwayWorld.com. "David Eric Davis's music is powerful, funny, and moving . . . Davis and Forman's book is so charming and witty . . . The cast delivers with the acting and on all the songs."