Education
Organizing for School Reform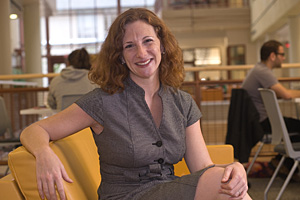 When we think of community organizers, images of slogan-chanting protesters come to mind. And of course the most famous former community organizer of all, President Barack Obama.
But community organizing has evolved, and some organizers have successfully entered a new arena: schools. One such group was the subject of a research project undertaken by a Harvard team that included Amanda Taylor, who is now director of graduate admissions and financial aid at AU's School of International Service.
Taylor and her colleagues, all doctoral students at the Harvard Graduate School of Education, conducted an intensive case study over the course of a year of a northwest Bronx coalition, one of six groups across the country the students and faculty chose to study. The report Taylor's group produced is one chapter in A Match on Dry Grass: Community Organizing as a Catalyst for School Reform, by Mark R. Warren, Karen L. Mapp, and the Community Organizing and School Reform Project (Oxford University Press: 2011).

NW Bronx Community and Clergy Coalition
The intriguing case study, produced with the close cooperation of coalition and community members, starts like this: "Ronn Jordan and Teresa Andersen remember well the meeting in 2006 when they, along with other members of the Northwest Bronx Community and Clergy Coalition, discovered startling new evidence that the New York City public school system was failing the city's youth."
What they found was that city planning for future enrollment levels, and hence classroom space, was based on the expectation that only 36 percent of students would enroll in the 12th grade in their fourth year of high school. In other words, while the city's stated goal was to raise four-year graduation rates to 70 percent, facilities were being planned with the expectation that 64 percent of students would fail.
That disconnect the coalition cannily framed as Planning for Failure, and it became the rallying cry of a highly organized and disciplined campaign for change.
The coalition is a multi-issue group that came together in the early 1970s because absentee and negligent Bronx landlords were burning down their apartment buildings to collect insurance. That got the group involved in creating and renovating thousands of affordable housing units.

Planning for Failure
In the Planning for Failure campaign, the group's leaders understood the power of research and mined such documents as the Blue Book, a 700-page volume on school usage and capacity. Armed with the same data planners used, including the sometimes misleading procedures they used to count available space, the coalition went about systematically educating its members about the problem.
This they did face to face — not through a press release. So each member of the coalition got to see the facts for himself or herself, an empowering experience.
Also empowering was the group's devotion to developing leadership, including young people. For many young people, doing the research, connecting with others, and learning to map power to understand how power structures work was a transformative experience.
"These young people are just rock stars," Taylor says. "To see them, to hear them speak, just will blow you away. They're amazing. Many of them, if you looked at the stats, go to the worst, quote unquote, high schools in New York, and they come from families and communities that when they're depicted casually oftentimes you would imagine that they don't have any supports. But you see the power and the agency and all of the richness that exists in these communities when you watch these young people."

Changing Face of Organizing
The work of the coalition also reflects the changing nature of organizing.
Organizing used to be confrontation, but the coalition is much more collaborative, using facts and reason to help persuade officials to solve problems. Its members can be confrontational when necessary, Taylor notes, but are collaborative if possible.
But not only organizing has changed. In New York City, the structure of the public education bureaucracy is now much more centralized, falling under mayoral control. That change presents its own challenges and opportunities.
Through its education organizing, its development and use of diverse allies, its effective use of data and leadership development, the coalition has had its share of successes in increasing the number of classroom seats. Those successes come against the hard reality of the limits imposed by economic hardships that cities are facing.
Perhaps just as important is the key role organizing plays in community-building. Taylor says the report is a tribute to the coalition and community members whose courage and intelligence she still finds inspiring.
"That's a key thing about the coalition," she says. "It's the community members themselves who are naming the issues, it's the community members themselves sitting at the table negotiating with politicians, building coalitions, building collaborations. They're the ones defining the issues. It's not the coalition themselves. They're just the vehicle by which the work gets done. I think what's so powerful about this is it's creating a solution that's multilayered. It's about supporting individuals, it's about supporting educational success, but it's also about building community infrastructure and relationships."

A Passion for Teaching
Before coming to AU and studying at Harvard, Taylor was herself a high school English teacher. She taught first in Italy and then in the same East Bay San Francisco High School that rap legend Tupac Shakur attended, and the school that inspired the movie Coach Carter.
In San Francisco, for the first time she saw how poverty and social inequality can affect young people's experiences.
Moving east with her husband, Wim Taylor, now associate director of employer recruitment services in the Kogod School of Business, she hoped to work for D.C. Public Schools. But after delays she was able to find instead a job in the dean's office in AU's School of International Service. In 2005 she started graduate school at Harvard and returned to SIS in her present position in 2009.
SIS has been very supportive, she notes.
After she completes her dissertation, which examines teaching and race in a suburban East Coast public school, she hopes to combine an administrator's role with teaching, which remains her passion. At AU as an adjunct she has taught an SIS class called Race, Class, and Power in International and Intercultural Education.

Conference at Harvard
In March, a conference at the Harvard Graduate School of Education will focus on A Match on Dry Grass.
"We're going to be talking about the book, and when I say we I mean not just the authors but also the community partners with whom we worked, because it's really their story," Taylor says. "We're the vehicle by which it has been written but it's their story. Leaders are coming with us to tell their own story just as this work is really about community members and naming their own issues and solving them for themselves."
The conference will bring together the researchers, coalition and community members, academics, policy makers, and funders. It will also be an opportunity to show other community organizing groups interested in moving into education what can be achieved.
Says Taylor: "This is their work, these are their efforts, and these are their stories."