On Campus
Increasing the Visibility of SIS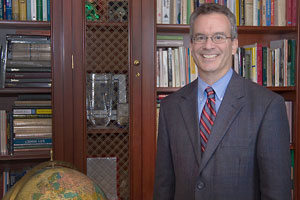 James Goldgeier joined American University as dean of the School of International Service on August 1. Before coming to AU, he was a professor of political science and international affairs at George Washington University, and from 2001 to 2005 he directed GWU's Institute for European, Russian and Eurasian Studies. His most recent book (coauthored with Derek Chollet) is America Between the Wars: From 11/9 to 9/11 (PublicAffairs: 2008).
What attracted you to AU and the School of International Service?

To be able to have the chance to lead a great school like this is an extraordinary opportunity. I was very excited about the prospect of coming over here. I've actually become more excited since I arrived because I am really impressed with the quality of the faculty, the staff is terrific, and the energy the students produce is inspiring.

What are your goals for SIS?

My overwhelming priority, and it really informs everything I do, is to increase the visibility of the school, the faculty, the students. We have an extraordinary number of interesting things going on here, and I want more people to know about them. I want to make sure that the students are connected with the broader community in the fields that we cover, and that not only do we get our people out into the community, especially into downtown, but also that we bring downtown here.

Did Dean Goodman give you any advice?

The best advice he gave me was to have fun. So I'm trying to do that as much as I can.

What do you consider your major accomplishments while you were at GWU?
One of the things I tried to do there that I hope to replicate here is when I directed the Institute for European, Russian and Eurasian Studies my goal was to look for areas where I thought we could be great and try to develop programs to raise money to put ourselves in a position where people would say, 'Oh yeah, that institute at GW is one of the top places.' That's the kind of approach I take here at AU. We talked about this as selective excellence, that basically you find those areas where you think you can really stand out and you push them. The thing is once you do that everybody else is also lifted as well—even programs that are not your feature programs or programs that may not have as much faculty strength or student interest.

What are your research interests?
When I was a graduate student in the mid- to late-1980s, I decided that if I was going to have something to say about American foreign policy I needed to understand the Soviet Union. I did a dissertation on Soviet foreign policy and of course the Soviet Union collapsed soon after I finished, and I moved back into thinking about American foreign policy . . . I've been interested in how the United States has responded to international affairs since the end of the Cold War, and I did two books on how the United States sought to integrate the former Communist East into the West. One book was on NATO enlargement, and one book was on U.S.-Russian relations.

Tell me about your most recent book?
You can't understand post-9/11 unless you understand that period from 11/9 to 9/11—November 9, 1989, the fall of the Berlin Wall. After September 11, people forgot about the period before September 11. My coauthor and I, who were both teaching American foreign policy at the time, looked at each other and said, 'But don't people understand that all these issues we're dealing with after 9/11 were already there before 9/11 and really arose with the collapse of communism?' So we set out to explain to people, especially our students who don't remember the period before 9/11, why you have to understand that period, both from the standpoint of thinking about the politics of foreign policy [and] how the United States has tried to grapple with global issues.

When you're not working, what are your hobbies or interests?

When my kids were younger, I coached soccer, basketball, and baseball. Soccer, my knowledge ran out pretty early; basketball and baseball I was able to stick around to eighth grade. Once they got to high school that became a lot harder. I have a lot less free time than I did before, but I try to go to the gym and try to make sure I still play tennis.