Communications
Mathes to Serve on NPR Board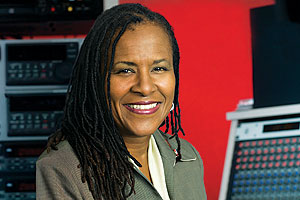 WAMU 88.5 general manager Caryn Mathes has been elected to the National Public Radio Board of Directors.
Responsible for the governance of NPR as a 501(c)3 nonprofit corporation, the board sets the policies and overall direction for NPR management, monitors NPR's performance, and provides financial oversight. It consists of 17 directors, 10 of whom are managers of NPR member stations and are elected to the board by their fellow member stations. The seven remaining directors include the president of NPR, the chairman of the NPR Foundation, and five prominent members of the public selected by the board and confirmed by NPR member stations.
"My election to NPR's Board of Directors presents a unique opportunity to take my service in public radio to a new level," Mathes said. "I look forward to assisting with policy and strategic development at NPR—and to bringing even greater awareness and stature to WAMU 88.5 and American University through my service."
Since becoming WAMU's general manager in 2005, Mathes has expanding the listeners from 550,000 to 750,000, the membership support from approximately 33,000 annual members to 51,000, and the scope of operations from $7 million annually to $20 million.
In the most recent Arbitron ratings WAMU is second in morning drive and fourth in afternoon drive in the metro D.C. area.