On Campus
Convocation Caps Welcome Week Packed with Programs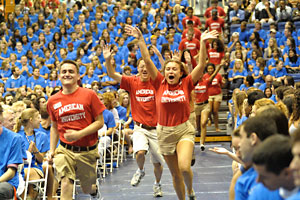 The notes of two bagpipers and a sole drummer leading a procession of American University's newest students to convocation through a throng of cheering onlookers signaled both the culmination of AU's Welcome Week and the beginning of a new academic year.
For the 1,550 young men and women who took seats on the Bender Arena floor on August 26, the 86th edition of AU's formal welcoming ceremony marked the end of an exciting week of events during which they began forging new friendships and familiarizing themselves with their city and its many communities.
"These years that are upon us will be among the most important in your lives," AU president Neil Kerwin said. "By applying yourselves conscientiously to the challenges and rich opportunities provided by this extraordinary institution, you will leave here educated, expert, and experienced."
More than 600 incoming freshmen started the week by committing 10,000 hours of service to 56 community sites and nonprofit organizations. Now in its 21st year, Freshman Service Experience (FSE) oriented students to their new home by giving them the chance to roll up their sleeves and join in efforts to better the community. Pairing days of service with evening programs highlighting community leaders and policy makers, students had the chance to bring their work into the context of the city's challenges.
At Kimball Elementary and Stuart-Hobson Middle School volunteers helped to build a "living classroom," a native garden and trail system to teach children about the importance of watersheds and instill a passion for their protection.
Others were part of community outreach with Weatherize D.C. and talked to neighbors about ways the program can retrofit their homes and reduce energy bills by 15 to 25 percent. With other organizations, they painted and bowled with senior citizens. They made murals, answered phones and beautified playgrounds. As FSE's 2011 Wizard of Oz-esque theme indicated, through service, these students learned, "there's no place like D.C."
This year's FSE was shortened from a four-day event to three days, two nights to correspond with other Welcome Week activities. The Discover DC program allows new AU students to learn about Washington's unique diversity by visiting various neighborhoods in the area, and to consider the concept of civic engagement as it is lived by D.C. residents. For the first time, the Office of Campus Life also offered 100 students seven more academic programs through the schools and colleges.
"It is an opportunity to connect new students to the academic and intellectual side of AU, as well as an opportunity for students to start thinking about D.C. as an extension of campus," said Tiffany Sanchez, director of New Student Programs.
Scholar-Teacher of the Year Robert Durant challenged students during his convocation speech to begin thinking about the country's most pressing problems from the moment they sit down in their first class.
"Here's the dirty little secret," said Durant, professor of public administration and policy in the School of Public Affairs. "We're not going to give you answers to those questions. You're going to be the ones to provide the answers. What we're going to give you here during your stay here at American University is our frameworks, our formulas, our concepts, our critical learning skills that are going to be able to add to your ability to address those questions, but to really address the two questions that Tolstoy said all of us as individuals have to entertain: What should I do with my life and how should I live my life?"
After just two years at AU, Tim McBride seems to have figured that out. The student government president praised his newest classmates, who were selected for admission from 18,754 applicants. Their average SAT score of 1,261 and GPA of 3.82 suggest that they too soon will excel.
"The class of 2015 perhaps more so than any previous class embodies the values of AU—diversity and service," McBride said. "When we turn 40, our 18-year-old selves will be proud of what we've accomplished."
Twenty years ago Chip Griffin, SPA/BA '94, was a wide-eyed freshman from New Hampshire when he attended AU's convocation. Now vice president of the AU Alumni Board, he spoke nostalgically about meeting his wife at AU.
"You may not find your own life or business partner here at AU, but you could very well meet your best friend, your future boss, the editor of your novel, your first client, or your campaign manager," he said. "You might be sitting next to a future movie star, an award-winning journalist, a Nobel Prize winner, a heart surgeon, ambassador, governor, or even president."