Athletics
Men's Soccer Team Starts Strong against Ohio State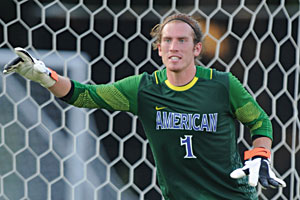 A tie, the line goes, is like kissing your sister. But the American University men's soccer team played so well in its season-opening 1-1 draw with No. 15 Ohio State, the result was exhilarating — more like kissing Khloe Kardashian's sister.
The Eagles led late in the contest before the Buckeyes, which advanced to the third round of last year's NCAA Tournament, scored the equalizer.
"The team defending was great today, and we were seven minutes away from beating a top-15 team," Coach Todd West told AUEagles.com. "Overall, I am pleased with our starting point with this team. We have some things to clean up, but we will build on this."
The 2011 season is packed with potential for AU, which fell just short of winning the Patriot League the last two years. Each time, AU was beaten in the championship game by Bucknell, which along with Colgate again will provide tough competition in the conference.
"The key is, we've beaten those teams in the regular season and lost in both championship games on set pieces early in the game," West said. "If we can get ourselves back in that position this year and execute a little better, I think we have a team that can win it."
With a nice blend of veterans and underclassmen on the roster, AU should have a balanced attack. Offensively, the Eagles are led by junior Alassane Kane. A Second-Team All-Patriot League selection last year, he led the conference in goals with seven. Junior Seth Goldman, who netted AU's goal against Ohio State, also will provide scoring punch.
The defense once again is anchored by goalkeeper Matt Makowski, who's played so many games it feels like he's been on the team since the Clinton administration. The senior has started all 54 matches of his career and was named the Patriot League Rookie of the Year in 2008 as well as All-Patriot League Second Team in 2010. He has registered 16 career shutouts with 1.12 goals against average in his three seasons.
Makowski is a candidate for the Lowe's Senior CLASS Award, which honors a Division I student-athlete with notable achievements in four areas of excellence — community, classroom, character, and competition. The list of 30 men's soccer candidates will be narrowed down to 10 finalists midway through the season with the winner being announced at the Men's College Cup in November.
By then, it should be clear whether AU's encouraging start was a sign of impending success or an aberration.

Record Crowd on Hand for Volleyball Opener
It was standing room only Friday night inside Bender Arena, where the largest crowd ever at a college volleyball game in Washington watched AU drop its season opener to George Washington.
Despite the loss, head coach Barry Goldberg praised the 2,122 fans who attended the team's annual Blue Out.
"It's amazing," Goldberg told AUEagles.com "To see everybody in here cheering us on is a great feeling for our players. "It's a great way to start the year off and to see the support from the Blue Crew for our team and the entire athletics department is amazing."
The Eagles bounced back to defeat Georgetown on August 27, and they host Oregon August 31 at Bender Arena. The game begins at 7 p.m.