On Campus
Religion and Revolution, Post-9/11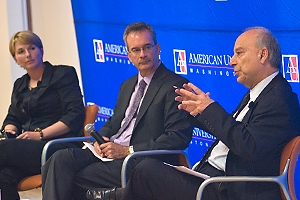 After the towers fell, while smoke and ash still filtered into the sky, and shock distilled into anger, a question was raised by everyone from cable news pundits to regulars at the local diner: Why do they hate us?
Ten years later, that question was the first recalled by SIS dean James Goldgeier during the Q&A "Reflections on the Eve of 9/11," the September 1 launch to AU's twelve days of lectures, worship and campus unity commemorating the attacks and examining what has changed, and what hasn't, over the past decade.
Now, creeping up on the tenth anniversary of the worst terrorist attack on American soil, Goldgeier began with "Why do they hate us?" and followed with, "Was that the right question?"
The conversation prompted by Goldgeier took featured speakers SIS professor Akbar Ahmed and  Cambridge University's  Shana Cohen from early American anger, through two wars, thousands of American and over a million Iraqi and Afghani deaths, grassroots interfaith and intercultural dialogue, and into an Arab Spring that holds both promise and uncertainty.
In a talk that touched reflexively on Muslim-Jewish-Christian relations, Ahmed took time to quote Lord Buddha to define the motivations that compelled the infamous 9/11 terrorists, saying, "there are three poisons that ruin us: fear, anger, and hatred."
Understanding that all sides of the conflict can and have been defined by the toxins of fear, anger, and hate, Ahmed spoke to the challenge and responsibility inherited by the next generation and specifically to students gathered in the room: your task will be to build a new paradigm to move us beyond these poisons.
"The challenge really for the twenty-first century is this — to recreate a vision of the world." Ahmed added, "Using force is just one way of doing things. You have to come up with something more sophisticated, convincing, and ardent to stop the violence, anger, and fear."

Arab Spring
Cohen reminded the audience that for a considerable time after the attacks, it was commonly accepted that there was no interest in democracy from within the Arab world. That perhaps, democracy must be driven from without.
Eventually, the Arab revolutions of 2011 will change that external perception. She added pointedly, "because people see something that has nothing to do with jihad or extremism."
Despite the past decade's stereotypical view of democracy in the Middle East, for those who've traveled or lived throughout the region, Cohen reminded her listeners, this year's upheaval is hardly a surprise. Under what may have externally seemed to be an acceptance of dictatorship, there is a long history of distrust, frustration, and even sarcasm and joking about the ruling class.
Although taking place in predominantly Muslim nations, last spring's revolutions were not religiously driven, said Cohen.
"People are worried about how they are going to eat, make a living . . . It's about economic survival." Some believe it was a food crisis that prompted the Tunisian revolution. Others, one fruit seller's act of defiance, when his dignity was bruised for a final time by public humiliation at the hand of a municipal officer, he self-immolated.
In these nations, there is now exuberance, optimism, and hope. There is also a power vacuum. One in which, Cohen says, a power-grabbing leader could easily rise, promising jobs in exchange for a little freedom. Ahmed warns, while revolution can mean democracy, history teaches us that revolution can also give rise to Stalin or Mao.
"These are fragile states, a very fragile plan, the plan for democracy," remarked Ahmed.
For an evening that began with an old idea, why do they hate us?, there was a sense that the question had become an artifact, or at least one that still can be mediated by human interaction — American dialogue in Arab nations and ambassadors of the faith in all corners of the United States. Still, the situation is complex, with the current global economic crisis, so heavily impacted by America's success or failure, which could cripple or buoy the economic fate of the rest of the world.
Ten years out from 9/11, Ahmed explained, we are indeed at a crossroads, at a time when bridge-building across religions, nations and cultures is what can lead us away from further peril. The architecture of those bridges will be a sketch-work of travel, outreach, and even tweets across old boundaries.



"Reflections On the Eve of 9/11" was jointly sponsored by the School of International Service,  Intercultural Management Institute, Center for Israel Studies, Jewish Studies Program, Kay Spiritual Life Center, Muslim Student Association, and Jewish Student Association. It was the first of many commemorations taking place across AU's campus.

See AU's 9/11 Remembrance & Memorial Site for details on future events. Media interested in analysis and commentary can visit AU's 9/11 experts guide.  Professor Ahmed and Cambridge University Woolf Institute of Abrahamic Faith's director Ed Kessler will co-teach the online course Bridging the Great Divide: The Jewish Muslim Encounter this fall.