On Campus
Impact of 9/11 Focus of School of International Service Events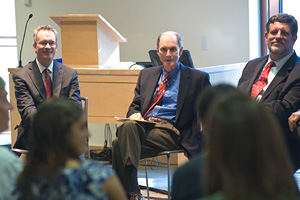 Ten years and one day after the day that changed everything, a series of School of International Service events examined the numerous ways 9/11 fundamentally altered life in the United States and around the globe.

Faculty, spiritual and religious leaders, and one high-ranking government official shared their insights on the tragedy that shaped the course of the past decade.

Ninety-seven percent of Americans remember where they were on September 11, 2001, according to a Pew Research poll cited by SIS professor Shoon Murray.

"This was a trauma, a national trauma, and one that affected everyone," she said.

Reflections on the 10th Anniversary of 9/11: A Faculty Experts Panel

Murray, director of SIS's U.S. foreign policy program, began the day's first event by asking just how transformative 9/11 really was.

"The consequence of 9/11 was to put fear at the center of American policy, particularly as it was related to the American people," said Professor Gordon Adams. "Internal security became part of the definition of national security more so than it had since the days of McCarthy."

Several panelists, including Professor Julie Mertus, codirector of the MA program in Ethics, Peace and Global Affairs, said the United States erred in not classifying the attacks as criminal. Calling them an act of war was a departure from previous U.S. policy, said Anthony Quainton, distinguished diplomat in residence.

"The whole thrust of the United States' policy was terrorism was a set of criminal acts," he said. "We've moved a long way from that."

The U.S. response to the attacks, in so many arenas, called into question its fundamental relationship with human rights, said professor Shadi Mokhtari.

"Abu Ghraib and Guantanamo have made it hard to believe in the United States as a leader in human rights around the world," she said.

Several panelists agreed that President Bush's assertion that the terrorists "hate us for our freedom" missed the mark.

"It's not freedoms, it's not culture, it's not Coca-Cola," Adams said. "It's our policy in the region."

At the conclusion of the panel, Professor Jordan Tama looked ahead.

"There are so many other problems in the world, we can't be preoccupied with terrorism the way we have been," he said.

Looking at the Post-9/11 World through the Lens of Faith

At the Kay Spiritual Life Center, Ambassador Akbar Ahmed, Ibn Khaldun Chair of Islamic Studies, praised his fellow panelist, Rabbi Bruce Lustig, senior rabbi at Washington Hebrew Congregation, for defending Muslims after the attacks, a time of anger when many tried to lump Islam together with terrorism.

"As a Muslim, I asked, 'Why did this happen?'" Ahmed said. He later added, "Islam requires balance . . . We're seeing a destruction of this balance."

Lustig said he clearly remembered the day of the attacks, and he wondered if "this was the type of fear my mother," a Holocaust survivor, "had experienced in her childhood."

If there is a positive outcome of the attacks and their aftermath, the panelists agreed that interfaith dialog has increased. David McAllister-Wilson, president of the Wesley Theological Seminary, noted that intrafaith dialog benefited as well, between mainline Protestants and evangelicals around a number of issues, especially in seeking to better understand Islam.

"I think it's changing the entire Christian community," McAllister-Wilson said, as Christians of all sorts seek to discover how they fit into the world after 9/11.

University Chaplain Joe Eldridge also noted with pride that immediately after September 11, AU students stood up to defend and assure their Muslim classmates, many of whom understandably feared retribution in the wake of the attacks.

U.S. Counterterrorism Efforts in a Time of Transition

The United States is more secure than it was a decade ago, according to Ambassador Daniel Benjamin, coordinator for counterterrorism at the Department of State, who offered his reflections on 9/11 during the final SIS event on September 12.

"Our ability to find terrorists, take them off the streets, and disrupt their operations has been quite remarkable," said Benjamin, a former foreign correspondent for Time and the Wall Street Journal, who came to State in 2009 by way of the Brookings Institution and the National Security Council.

In addition to eliminating Al-Qaeda founder and 9/11 mastermind Osama bin Laden and three other top operatives, the United States  has "upped its game in terms of foreign partnerships," crafting "an extraordinarily broad coalition of allies."

"The effect of 9/11 was to make everyone understand . . . that the premium is on cooperation."

That said, the threat of terrorism remains.

"We've seen the threat move from the center to the periphery," Benjamin said. "There are a lot of ally groups that we need to worry about," including Al-Shabab, the organization behind the 2010 Kampala World Cup bombing, which killed 76 people, and the Pakistani Taliban."We worry particularly because there are so many weapons loose in north Africa and money from kidnappings for ransom."

In terms of U.S. counterterrorism efforts, "there are plenty of reasons to continue to push forward."

Dean's Reception Honoring Service

SIS Dean James Goldgeier also hosted a reception honoring members of the AU community who have dedicated their time to service since 2001.