International
Peace Corps, SIS Share Common Values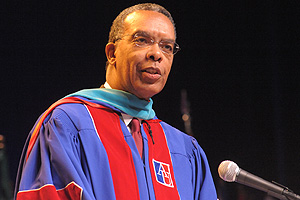 The missions of the Peace Corps, which is marking its 50th anniversary with a host of events in downtown Washington this week, and American University's School of International Service are strikingly similar.
"Our founders had a vision of peace that would educate citizens planning to be of service," said Lou Goodman, dean emeritus of SIS. "That is the essence of what we do. As a result students throughout the school value and pay attention to the Peace Corps, and large numbers of them are Peace Corps alumni."
AU tied with Cornell for fourth among all medium-sized universities in the Peace Corps' 2011 college rankings, with 55 alumni self-reporting from the field.
"We have such a service mission, I think that's ingrained in the university," said associate director of International Student and Scholar Services Kristina Thompson (CAS/MA '00), a Peace Corps volunteer in Benin from 1996 to 1998. "I also think the focus on international cultures makes AU an attractive place to come back to after the Peace Corps. It was great to process that experience and to be with other people who understood it."
Robert Schlehuber is a master's student in SIS's International Peace and Conflict Resolution program. He spent two-plus years working in youth development in the Peace Corps in Ukraine, an experience that cemented his belief that one person can indeed make a significant impact.
"I'm always reminded how small we are in the world," said Schlehuber, an Illinois native who helped a group of Ukrainian kids start a school newspaper. "We're small, but our actions can be big."
Schlehuber chose AU in part because he sensed the connection between its core values and those of the Peace Corps.
"Doing the Peace Corps you're asking yourself, 'What can I learn from other people?'" he said. "SIS really invites people to come together to share with each other and learn from each other."
AU's Peace Corps alumni numbers have increased every year since 2006, when 34 students participated in the program. Now that SIS offers a Master's International Program, in which students can pursue a degree in one of the eight graduate programs while in the Peace Corps, AU figures to continue its upward trend.
Master's International students begin their graduate coursework at SIS before traveling to their Peace Corps sites for training. While overseas, they earn six credits (tuition for which is waived) towards their master's degree requirements. After completing their 27-month service, students return to SIS to finish their graduate course work.
"We're getting tons of interest," said Amanda Taylor, SIS director of graduate admissions. "It combines the theory and the practical."
The relationship between the two organizations is as close as ever. In March, Bender Library began displaying an exhibit on the lower level detailing the history of the Peace Corps. Fifty years earlier, President John F. Kennedy signed the executive order that created the Peace Corps. Within a month, AU hosted a conference cosponsored by Americans Committed to World Responsibility (ACWR) and the National Student Association on the topic of youth service abroad. From March 29 to 31 the conference met in the Cassell Center, a building that previously occupied the site of the Katzen Arts Center. The conference drew students from around the country and was a critical foundation for the new program. R. Sargent Shriver, first Peace Corps director, attended and referred to it as a "milestone in the history of the Peace Corps."
The Peace Corps continues to return to AU. In May 2011 Peace Corps director Aaron Williams received an honorary degree from SIS when he spoke at the school's commencement ceremony. On October 27, SIS will host the Master's International Fair.
It's telling that when asked about the benefits of her own Peace Corps experience, Thompson's answer also could describe SIS.
"I think they do a terrific job of language, cultural, and technical training," she said. "You become part of a network that is incredibly supportive both professionally and personally. It's really a chance to learn from others."

Pat Wand, AU Librarian Emerita and a Peace Corps volunteer in Colombia, and AU Alumni Board member Dennis Grubb, SIS/MA '68, who also served in Colombia, will host a Colombia Country Update at the Katzen Arts Center on September 23, from 1 to 4 p.m. Hijos de Kennedy, a film depicting, in part, Grubb's service in the Peace Corps, will be shown.