Communications
Greg Smith Sound Effect Collection at Bender Library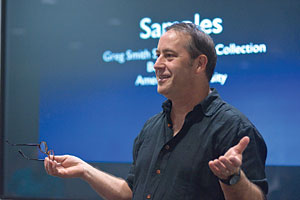 Greg Smith navigates the world with his ears open, audio equipment at the ready.
Over the course of twenty- five years in film, Smith has recorded hundreds of sound effects ranging from the simple ring of an antique cash register to the spectacular explosion of the Space Shuttle launching into flight.
On September 14, the School of Communication adjunct professor and recent graduate, MA/MFA '10, donated 1,450 effects to American University's Bender Library, forming the foundation of the Greg Smith Sound Effects Collection.
"I came from a large family, you had to make a lot of noise to get attention," Smith said. "But I discovered that you can learn more if you listen, because sound is all around us."
Working as a sound engineer, Smith has provided sound recording or post-production sound on films including Star Wars: Revenge of the Sith; Jurassic Park; Indiana Jones and the Last Crusade; Who Framed Roger Rabbit? and IMAX productions like Blue Planet and NASCAR 3-D.
During long breaks on set, Smith would record everyday sounds to add to his collection of more exotic ones he captured during other projects in the field. He once dropped a microphone encased in plastic 50 feet into the Pacific Ocean to record humpback whales near Maui. At Badlands National Park in South Dakota he recorded the exotic roar of buffalo, a strange symphony that was used for the sounds space creatures make in Revenge of the Sith.
In the mountains of China he waited for hours in the cold, warming batteries by sticking them down his pants, until a mother panda bear left her cub alone in the den. Smith and a team of scientists rushed in, and he recorded the baby's surprisingly high-pitched bark.
"At two months old they don't sound like bears, they sound like Paris Hilton's Chihuahuas," he said.
Smith began the project, his master's thesis, by sorting through the 800 hours of effects he has amassed throughout his career. He listened to each and every one, ultimately digitizing and categorizing them for the collection.
"I was able to transport myself back to when I recorded these," he said. "It really was a labor of love."
The collection is open and free for all filmmakers to use.
"This is an amazing collection," said Robin Chin Roemer, an assistant librarian at AU. "It's helping us build our reputation as a place committed to film and media production."
The tracks are available in zipped MP3 format. Once downloaded they can be un-zipped with any widely available utility like 7-Zip (PC) or MacZip (Mac). Categories range from jungle to construction to electronics to weapons. Smith has recorded Civil War re-enactors firing a cannon in Manassas, the crackle of thunder from a New Mexico mountaintop, the roar of stock cars racing around a speedway in North Carolina.
"This is meant to be a living collection I'll keep contributing to," said Smith, whose production company is called Pros From Dover. "It clicks and it grumbles and growls and pings."