Athletics
Faculty Edges Staff in Basketball Classic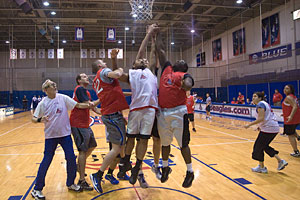 The second-annual Faculty vs. Staff Basketball Classic came down to the wire, with the faculty notching its first victory, 36-32.
Danny Hayes from the School of Public Affairs led the faculty team with nine points. For the staff, Michael Summer of the Office of Development and Alumni Relations also scored nine, including a half-court buzzer-beater to close out the first quarter.
The faculty was coached by women's basketball coach Matt Corkery, Provost Scott Bass, SPA dean William LeoGrande, and SPA's Matt Bourdon. Men's basketball coach Jeff Jones, Eric Osborne of Facilities Management, and chief of staff David Taylor led the staff team.
"It was great to see the entire campus community come together in Bender Arena for spirited competition to tip-off the basketball season," senior associate director of athletics David Bierwirth told AUEagles.com. "We look forward to having everyone back for opening night and hosting this special event for years to come."
A banner recognizing the faculty's victory will be unveiled during the men's basketball team's home opener at Bender Arena against Florida Atlantic on November 16.