Athletics
Four Eagles Take Home Patriot League Weekly Honors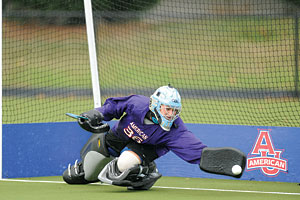 The first full week of October was a fruitful one for four American University student-athletes who were recognized by the Patriot League for their accomplishments on the field.

Field Hockey
Senior defender Tatum Dyer, right, and sophomore goalkeeper Ashley Dalisera, above, were named Patriot League Defensive Player of the Week and Goalkeeper of the Week, respectively.
In addition to leading a defensive unit that blanked Holy Cross 4-0 on October 8, Dyer recorded a career-high five points on two goals and an assist. On the rare instances when the Crusaders were able to fire a shot on goal, Dalisera flicked them aside. The native of Millersville, Maryland, recorded her second career shutout.
After beating Colgate and losing to Maryland over the weekend, the Eagles' record stands at 7-6, 3-0 in the Patriot League. The team returns to action on October 22 at Bucknell and will host Georgetown at Jacobs Field on October 23 at 1 p.m.

Men's Soccer
Adam Gokturk was named the Patriot League BRINE Defensive Player of the Week, but his biggest contribution might have come on the offensive end.
Against Army on October 8, the junior from Annandale, Virginia, scored the game-winning goal in the 73rd minute. The Eagles won 3-0, running their Patriot League record to an identical 3-0, which improved to 4-0 following a 1-0 win over Lafayette on October 15. AU returns to the field on October 22 at Navy, and will host Lehigh October 29 at 1 p.m. at Reeves Field.

Volleyball
Rebecca Heath recorded a team-high 11 kills in leading the Eagles to an October 6 victory over Navy. For her efforts, the senior was named the Molten Patriot League Player of the Week.
Heath had a .476 hitting percentage, which included only one attacking error along with seven digs. After another big weekend that included a win over Lafayette and a loss to Lehigh, the Eagles sit 13-10 overall, 6-1 in the Patriot League.
AU is back in action October 19 against Howard at 7 p.m. in Bender Arena.