Law
Law Professors Look Back on Attica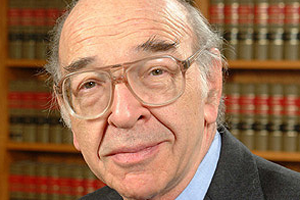 Forty years after Attica, a name that still conjures up images of one of the worst prison riots in American history, has the penal system changed?
That's among the questions Washington College of Law professors Herman Schwartz and Ira Robbins explored October 18 during a lunchtime event sponsored by the Center for Human Rights and Humanitarian Law.
"When we're talking about prisoner's rights, when it's all said and done, we're talking about human rights," said Robbins, director of the dual degree program in Law and Justice. "The typical prison is designed to hold 550 prisoners, but holds three times that. The typical prison has a ratio of one guard to 100 prisoners. Overcrowding is a big factor. We can talk about prisoner's constitutional rights all we want, but it's all about the money."
Few people can speak about Attica with as much authority as Schwartz. Hours after the September 9, 1971, rebellion in which nearly 1,500 inmates took more than 40 guards at the upstate New York facility hostage, Schwartz was among the first outsiders inside the gates.
A civil rights lawyer, Schwartz began championing prisoner's rights in the 1960s. He brought several lawsuits against the prison system on behalf of Attica inmates, and when they took control of the prison, they asked to see him.
"We walked through the dark corridors, pipes were broken, there was water all around," said Schwartz, who was joined by then New York assemblyman Arthur Eve. "The place was in shambles. But when we walked out into the yard, it was a sunny, lovely day. There was a table set up, five men seated behind it. It was remarkably organized."
The prisoners patted down Schwartz and Eve, then offered them orange juice. They requested transport to a third-world country and amnesty from any crimes committed during the uprising.
When those demands went nowhere, New York Department of Correctional Services commissioner Russ Oswald intervened, and agreed to bring news cameras with him to a meeting in the prison.
"That was the biggest mistake in the world," Schwartz said. "At that point the whole thing changed. It became a form of theater."
In a last ditch attempt to help, Schwartz drafted an injunction that the prisoners ultimately rejected. At one point during an increasingly tense session in the jail, he heard a group of angry inmates declare, "let's keep him."
"It seemed like three hours, but it was probably no more than seven or eight minutes until they let us out," he said. "I didn't go in again after that."
But on September 13, the New York state police did. They stormed the compound, firing into the crowd killing 39 inmates and guards. Schwartz represented several prisoners in lawsuits stemming from those four days in September 1971, and said the events still shape the way he thinks about prisoner's rights.
"Attica was a total tragedy," he said. "Nothing good came out of it. It persuaded me, and I've never changed my view, imprisonment is a morally, conceptually, and financially bankrupt institution. You can't run a humane prison system. You can't put people away out of sight without expecting terrible things to happen."