Government & Politics
Tackling World Problems, a Labor of Love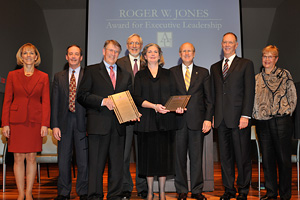 With dissatisfaction with the federal government at an all-time high, Carolyn Lukensmeyer challenged civil servants to "rebuild the public's trust in the government — and in you."
"The national narrative about our government institutions is appalling," said the founder and president of America Speaks, a Washington-based nonprofit that promotes civic engagement. "The issue for Americans isn't the size of government, it's the role of government. We have to reconnect Americans to their government and their rightful role as citizens."
Lukensmeyer delivered her keynote remarks before an auditorium of about 100 career public servants at the 34th annual Roger W. Jones Award ceremony, October 24. Sponsored by the School of Public Affairs, the Roger Jones Award honors excellence in executive leadership.
Lukensmeyer implored the audience to "embark on a mass communications campaign that teaches citizens what their government does for them." For example, Lukensmeyer said, TV weather broadcasts could feature a crawler along the bottom of the screen proclaiming: "brought to you by the National Weather Service."
Lukensmeyer's rallying cry capped off the celebration of the Roger Jones awardees: Margaret Gilligan, associate administrator, Federal Aviation Administration (FAA), and John Montgomery, director of research, Naval Research Laboratory (NRL). Lauded for their leadership, character, and imagination, both credited their colleagues as well.
"When you honor me, you honor our entire team and it is for that that I'm most grateful," said Gilligan, a 31-year veteran of the FAA.
As associate administrator — a post she's held since 2009 — Gilligan leads the organization that's responsible for setting, overseeing, and enforcing safety standards for the aviation industry. A lawyer by trade, Gilligan serves as the government cochair of the Commercial Aviation Safety Team (CAST), a private-public partnership that works to reduce the risk of accidents. Under her direction, CAST helped reduce U.S. commercial aviation fatalities by 83 percent in 10 years.
Montgomery joined the NRL in 1968 as a research physicist. Four decades later, he oversees research and development programs, with an annual budget of more than $1 billion. His technical vision drove the development of such innovations as Dragon Eye, a mini-surveillance plane light enough to be carried in a backpack; the first tactical micro-satellite; and lightweight body armor. Montgomery said that leading a team of scientists tackling some of the world's most pressing problems "isn't work, isn't a job, it's a labor of love."
"If, after 44 years in the lab, I could start all over again, I would because, my golly, it's been fun," he said. "This university just gave an award to a man who never worked a day in his life."