International
SIS Hosts Six-University Conference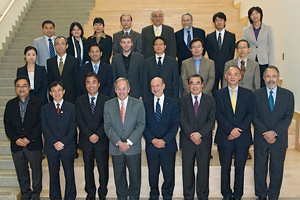 The Six-University Conference, held October 27 and 28 at AU's School of International Service, has come a long way since it was created in the 1980s.
Initially, it was a partnership between American and Ritsumeikan University in Japan.
Now, it consists of six universities, three from North America, three from Asia.
SIS dean emeritus Louis Goodman, looking around the Abramson Family Founders Room and seeing a half dozen of SIS's 15 or so Asia specialists, many of whom were born in Asian countries, noted that in the 1980s SIS had no scholars concentrating on Asia.

Open Government Partnership
Keynote speaker Maria Otero, the State Department's undersecretary for democracy and global affairs, kicked off this year's conference by discussing the Obama administration's support of the Open Government Partnership (OGP).
Introducing Otero, SIS dean James Goldgeier read her long list of responsibilities and expertise: "Democracy, human rights and labor, environment, oceans, health and science, population, refugees, migration, monitoring and combating trafficking in persons. And when she's not doing all those things she's special coordinator for Tibetan issues. I'm not sure how she does it, but Ms. Otero also has an extensive background in the area of micro-finance. She worked previously at USAID."
Eight founding governments — the United States, Brazil, Indonesia, Mexico, Norway, the Philippines, South Africa, and the United Kingdom — launched OGB in September 2011 to secure concrete commitments from governments for such goals as promoting transparency, fighting corruption, and using new technologies to strengthen governance.
Response to the Times
"In some ways, the Open Government Partnership is really a response to the times," Otero said. "And it's a response that allows us to address issues that have been problematic and intractable for governments for as long as we can remember. So in this context it is interesting that already 47 countries (including the founders and participating countries such as Chile, Italy, and Tanzania) have come together . . .

"These governments are making a commitment to openness . . . not only in name or in aspiration, they're doing it in action. They are working with input and consultation from the civil society in their own countries and with the private sector to develop concrete steps in which these governments work better for their own people."
A Hopeful Sign
After Otero's presentation, dean emeritus Goodman contrasted Otero's presentation with that given in 1992, at the third conference, by another government official, a member of George H. W. Bush's administration.
"He came to talk about a new initiative the government had evolved at that time," Goodman said. "That speaker was Paul Wolfowitz, and he came to explain to us what was then called the Cheney Doctrine and how the Cheney Doctrine was designed to assure the continued leadership of the United States in the world . . . So I think your discussing this new initiative of the Obama administration, and contrasting it with previous presentations in this very forum, indicates where the world has gone and hopefully where the government of the United States has gone."
During this year's conference scholars presented papers at sessions on Asia-Pacific regionalism, foreign policy making, the dynamics of China and Japan, and global and regional issues. The event ended with a discussion of future directions for the conference.
The six universities that sent scholars to the conference, in addition to AU and Ritsumeikan, were Fudan University (China), Korea University, the University of Toronto, and Tecnológico de Monterrey (Mexico). The conference is a platform for discussion among faculty members and facilitates academic cooperation among the six universities.