Athletics
Freshman Stands Tall for Patriot League Champion Volleyball Team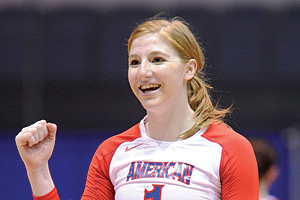 Growing up—and up, and up—Sara Rishell was the tallest in her class.

"Lining up for pictures, I'd always be at the front of the line," the 6-foot-2-inch AU freshman said.

In just her first season on the women's volleyball team, she's already at the top of her game.

The Eagles wrapped up their tenth regular season Patriot League title in 11 years by defeating Lehigh on November 11. They'll host the Patriot League Tournament, beginning with a November 19 semifinal game against Colgate at 2 p.m.

If they hope to win it, the play of Rishell likely will be key. During the November 4 win over Holy Cross, Rishell led the team with 13 kills and seven blocks. She was named the Patriot League Rookie of the Week.

Against Lehigh seven days later, she recorded 12 kills, three blocks, and two aces and once again was named rookie of the week.

"She's a jumping, tall player," said Coach Barry Goldberg. "Usually you'll get some tall players that can't jump as well. She has the ability to potentially play professionally in Europe when she finishes here. She's that athletic a player."

Rishell played basketball and participated in track and field in high school, but she quickly came to realize her best Division I prospects were in volleyball.

"I was always a little better at volleyball than I was the other sports," said Rishell, a Hagerstown, Maryland, native. "In basketball you can be really aggressive, but there's always a foul. In volleyball you can go out and swing as hard as you can. You can get out a lot of anger."

Not that she needs to. College has been even more fun than she expected.

"Everyone on the team is awesome, they're so great to be around," she said. "Classes are going well. The coaches are awesome. This is a great environment to be in."

No wonder she's happy. AU started the season with a handful of losses to big-time teams, but took care of business in conference play. It capped the regular season with a win over Lafayette on November 12, the final regular season game for star Rebecca Heath and Alexandra Hammer.

With a freshman like Sara Rishell, the Eagles can look forward to three more years of winning Senior Days.

Basketball Tips Off on Comcast SportsNet

The men's basketball team's home opener November 16 will be the first of six games televised on Comcast SportsNet. 
Veteran Washington Wizards broadcaster Steve Buckhantz will be joined by his longtime partner, analyst Phil Chenier, for four of those games, while renowned sports journalist John Feinstein will call the Army and Navy games.

"We feel like we've got a good product, and as much as we can put that out there for people to see, there's plenty of room on our bandwagon," Coach Jeff Jones told WashingtonPost.com. "Getting in front of recruits in this region in this way is certainly a positive; just familiarizing people with American University and with our men's basketball program."