Business
Thumbs Up: Pandora Exec Details Music Company's Rise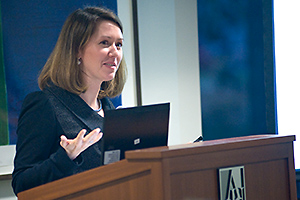 Jessica Steel has made a career out of helping music lovers perfect their playlists.
As executive vice president of business and corporate development for Pandora, Steel has helped steer the company from just another Silicon Valley start-up to an Internet radio darling with more than 100 million users and $138 million in revenue for fiscal year 2011. And while she likens her seven-year tenure with Pandora to "riding a rocket ship," it's only been in the last three years that the company has really taken off.
"In the entertainment industry, every overnight sensation is seven years in the making," said Steel, who spoke at the Kogod School of Business, November 15, as part of the Alan Meltzer CEO Leadership Speaker Series.
Related Video: Q & A with Jessica Steel on Leadership

Pandora began in 2000 with a seemingly simple mission: to help users navigate a vast ocean of music and discover new songs and artists based on their taste. To do that, Pandora's founders had to understand both the art and science of music — and with that, the Music Genome Project, the most sophisticated taxonomy of musical information ever collected, was born.
Starting with ABBA's "Dancing Queen," a team of musicologists began analyzing songs based on 200 to 500 characteristics (fewer for pop tunes and more for rap and jazz songs), including: melody, harmony, instrumentation, arrangement, and lyrics. Analysts, who are still combing through hundreds of years worth of music, spend about 20 minutes on each song, some of which are dissected twice to ensure statistical reliability.
A complex mathematical algorithm organizes the songs based on their characteristics, and crafts a playlist for Pandora users based on their affinity for Adele to Zeppelin to thousands of artists in between. Users deviate from the standard "Beatles playlist" by giving each song a thumbs up or down, thus charting their own course through what Steel calls "the celestial jukebox."
"The Internet allows for perfect personalization," she said. "We had a fundamental belief that the Music Genome Project could change the world — and it has." To date, Pandora has collected 11 billion thumbs up and down.
Pandora began as a subscription service in 2005 and relaunched soon after as a free service, supported by ads. It wasn't until the company launched a mobile version of their software through the iTunes App Store in 2008, that the rocket ship really began to ascend. Sixty-five percent of users now listen through a mobile app.
Earlier this summer, Pandora began trading on the New York Stock Exchange, under ticker symbol "P." Under Steel's guidance, the company has also partnered with 13 automakers to integrate Pandora into the dash.
"It's all about the playlist. Every day, we're focused on how to give you more of the music you love and less of the music you don't," she said.
"The music industry is not an easy industry to be a part of, but to work around the product of music is a thrill. Let's be honest, it's not toothpaste."