Achievements
Bass Wins Gerontology Society Award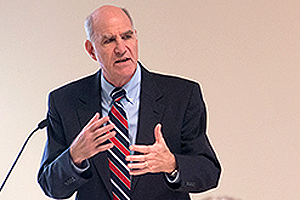 AU provost Scott Bass has received the Gerontological Society of America's (GSA) prestigious Donald P. Kent Award. GSA, the nation's largest interdisciplinary organization devoted to the field of aging, presented Bass the award recently during the society's annual scientific meeting in Boston.
Established in memory of Donald P. Kent for leadership in translating research findings into practical use, the honor is presented annually to a GSA member who best exemplifies the highest standards for professional leadership in gerontology through teaching, service, and interpreting gerontology to the larger society.
Describing Bass's extensive experience in the field, the society noted that as a scholar he "has assisted in broadening professional perspectives on the capacity and potential of an aging society" and that he "was instrumental in the creation of GSA's Theoretical Developments in Social Gerontology Paper Award."
The winner of the Kent Award presents a lecture at GSA's annual scientific meeting the following year.