Business
Marketing Class Pitches In on Wonk Campaign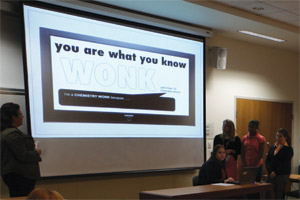 Might the Capitol Steps perform a wonk-inspired sketch during welcome week? Perhaps a "Meet the Wonks" speaker series. How about a wonk scholarship?
Tasked with creating a plan to integrate American University's wonk branding campaign into the campus community, students in Kogod School of Business professor Sonya Grier's Integrated Marketing Communications class did not disappoint.
"It's a challenge for the students to do all the things we asked and implement some real ideas," said Grier. "It was interesting to see how they changed during the project; I think they had some really good ideas."
Four groups presented their blueprints November 17 to a panel that included Grier, their classmates, executive director of university communications and marketing Teresa Flannery, senior marketing director Deborah Wiltrout, and Kogod director of marketing and communications Lara Kline.
Wiltrout presented the branding campaign and answered students' questions about it early in the semester. It was then up to each group to decide how to sell the concept to a sometimes skeptical AU community using a mythical $15,000 budget.
"It's part of a university branding campaign to give yourself an identity, so even though everyone thinks of themselves as different kinds of wonks, everyone's a wonk," said Elizabeth Robins '12. Her group suggested a "What Kind of Wonk Are You?" competition in which students submit videos of themselves or another wonk.
Sentiment among the undergraduate students in the class was mixed heading into the project. Some knew nothing of the wonk campaign when they arrived at AU in August, some didn't like it, others did, and a few hadn't made up their minds.
But after a semester spent learning about the efforts the university put into identifying the need for a brand, researching constituencies, creating a campaign, and beginning to implement it, the students acquired a newfangled respect for wonks.
"I can personally say that after hearing about the campaign I got on board, which was not something I thought I would do," said Katelyn Bornak '11. "It was a matter of getting all the information. I actually think it's a great thing because wonk has so many interpretations."
"Many of the students in this class realized that the brand strategy is deep and strategic," said Flannery, who also is working with several School of Communication classes on the campaign. "Once they get to know it, they appreciate its power and potential to help AU."
After the presentations the students and marketers engaged in a frank question and answer session that was an educational experience for everyone.
"I learned [the campaign] is a lot more multifaceted than students think," said Andrea Lum '11. "When you think of branding you don't usually think of a large, complex university. There are thoughtful reasons why the university needs a branding campaign. It all kind of comes together as to why they chose it."
Spoken like a true marketing wonk-in-training.