Student Life
Veteran Community Makes for Military Friendly School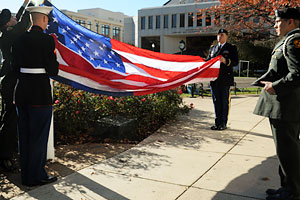 Just two weeks after completing his second tour in Iraq, Specialist John Kamin returned to American University and plunged into spring semester classes. The last time he transitioned home, Kamin spent a few months of restive evenings on a beach.
This time, with just days between combat and campus, Kamin noticed he was still scanning his environment, habituated as he was to scoping out danger in Balad, Iraq.
Now president of AU Vets, Kamin says that while the transition was rough, he never felt isolated. He had a circle of veterans who could relate. "I don't think it would have been possible without AU Vets, because making that transition, with other soldiers and marines, other people who had been deployed to Iraq, offered me a kind of safe harbor to make it happen."
AU Vets, the university's chapter of Student Veterans of America consisting of veterans and civilian supporters, offers a community and an on-campus voice to vets as they transition to student life. It is also part of a larger patchwork of programs and advocates around AU, including the AU Veteran Liaison Network and Yellow Ribbon program that earned the university's recent designation by G.I. Jobs magazine as a Military Friendly School for the second consecutive year.
"Military Friendly Schools are the colleges, universities, and trade schools that have demonstrated they are doing the most to recruit, retain, and educate America's veterans," said Dan Fazio, managing editor, G.I. Jobs. At AU, welcoming veterans is a campus-wide effort.

Soldier as Student
Beyond the financial and administrative support offered by AU, most meaningful to many veterans is the community they find here. John Crown, a platoon staff sergeant who served two tours in Iraq, has what some might perceive as a typical story. In Iraq, he escorted tractor trailers between Fallujah, Ramadi, Al Taqaddum Airbase, and Baghdad. He also led a squad that searched at night for roadside bombs.
It was a stressful job, one that could test any Marine. When Americans took Fallujah, it was a stand-up, gun-to-gun fight. But the enemy Crown guarded against on his tours, he said, fought like cowards, using roadside bombs, willing to kill their own people. That's not the way Marines are trained.
"You say what you mean, and you mean what you say. You stand up and fight, and you're done."
Now as a student veteran he occasionally is asked well-intentioned questions by other students. Was it scary? Yes. If you had to do it again, would you still enlist? Yes.
This fall, working in conjunction with the College Writing Program, AU Vets coordinated guest lecture appearances for student veterans like Crown to speak to incoming freshmen, all of whom had read David Finkel's The Good Soldiers, a grueling book of reportage tracking an army infantry battalion during the 2007–08 surge in Iraq.
John Hyman, director of the Writing Center, explained that the opportunity for veterans to share their stories made a deep impact. He said, "Our teachers have found it not only a remarkable way to continue their study of David Finkle's book, it also puts a face on the veterans' experience."
According to Kamin, the lectures gave veterans, many of whom are reticent to share war stories publicly, a purpose for doing so. They were teaching—but "it can also be cathartic talking about it."
To prepare for questions ranging from sensitive queries like "What was the adjustment to war like?" to the less empathetic, "How do you feel being part of something that is responsible for so many civilian deaths?" AU Vets ran preparatory workshops for veteran guest speakers in advance. The program has been so successful, for faculty, veterans, and students alike, that AU Vets is in talks with Student Veterans of America to write a best practices manual on introducing student veterans as lecturers.
According to Crown, who has spoken to four classes to date, the guest lecture is about opening lines of communication. "What a lot of these kids I'm talking to are learning is that veterans aren't afraid to talk."
In all that back and forth, AU Vets are putting a face and experience on two wars that have dominated headlines for a decade and have been formative in their own lives — and, now, establishing themselves as a resource within AU's learning community.

Read AU among Nation's Top Military Friendly Schools to learn other ways the university supports veterans.