On Campus
President Bill Clinton is AU's First Wonk of the Year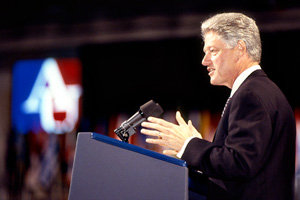 President Clinton, founder of the William J. Clinton Foundation, the 42nd president of the United States, and the first popularly acknowledged wonk to occupy the Oval Office, has been named American University's inaugural Wonk of the Year.

President Clinton will receive the award from AU's Kennedy Political Union January 27 at Bender Arena prior to a speech he delivers to members of the AU community.

"In the end, there's one true policy wonk," said Alex Kreger '14, director of KPU. "President Clinton was known as the policy wonk because he's so knowledgeable about policy and was able to use that in a variety of ways to impact the country and the world."

Created in 1968 to establish a stronger link between AU and the halls of power downtown, KPU was named for the Kennedy family to acknowledge their service to the U.S. government and to society. Theodore (Ted) Sorensen, an aide to both President John F. Kennedy and Robert Kennedy, was the inaugural speaker.

The student organization decided to establish the Wonk of the Year award to recognize a well-known individual who represents the embodiment of a wonk—someone smart, passionate, focused, and engaged who uses their knowledge and influence to create meaningful change in the world.

"Wonk is something that has come to symbolize what AU students are, and what we think is important," said Kreger, a political science and history major. "We think it's important to become intellectually involved in something, and to use that to make a difference. Students have begun recognizing themselves as wonks."

In 1992 the Baltimore Sun referred to President Clinton and running mate Al Gore as a "double-wonk ticket," and the term was widely used to describe the administration throughout its tenure.
 
The following year, President Clinton made the first of his two visits to AU, receiving an honorary degree and kicking off the university's centennial celebration on February 26.

During a September 9, 1997, speech at Bender, President Clinton called on the AU community to visualize the United States in the 21st century as "a truly multiracial, multiethnic, multireligious democracy that still runs in a straight line from here all the way back to George Washington."

He compared his vision to that of his political hero, President Kennedy, in the 35th president's historic 1963 AU commencement address, which called for a ban on nuclear atmospheric testing.

"President Kennedy looked forward and saw a day when the Cold War [would be] a thing of the past. Because of decades of work to uphold our values . . . we are now living in the world John Kennedy imagined 34 years ago at American University . . . Now it is up to you and to me and to our fellow Americans to imagine what the 21st century will be."

Since leaving the White House, President Clinton has played a large role in shaping that future. In 2005 the William J. Clinton Foundation created the Clinton Global Initiative, an annual conference that to date has garnered more than 2,100 commitments, improving the lives of nearly 400 million people in more than 180 countries. When fully funded and implemented, these commitments will be valued at $69.2 billion.

"When people hear the word wonk, one of the first examples they often think of is President Clinton," said Teresa Flannery, AU's vice president for communications and marketing. "He embodies the term . . . whip smart, passionate, politically engaged, and focused on using his knowledge to create meaningful change. We could not have started with a better example for our first recipient of this award."

Since spring 2010, the wonk moniker has become synonymous with AU. The term has appeared on T-shirts, Metro ads, and admissions materials. Images of AU wonks are seemingly tucked around every corner of campus and Washington, D.C.

Adoption of the word was a purposeful affiliation. For a university that is among the nation's most politically active, the D.C.-insider term "wonk" was a label of pride, signifying the sort of intellect that strives for knowledge with real-world application. Early on, the university defined a wonk as someone who is smart, passionate, focused, and engaged. In many ways, wonk has come to mean a person who dedicates their considerable mental resources to making positive change in the world.

Someone like President Bill Clinton.