On Campus
HR: Grab Back Some Time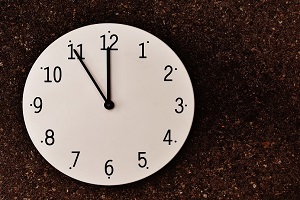 When it comes to New Year's resolutions, getting organized is right up there with getting more exercise and eating healthier.

Which is where Human Resources' Workplace Learning and Development (WLD) department stepped in with "lunch and learn" presentations as part of the National Association of Professional Organizers' eighth annual "Get Organized" month.

At her January 18 presentation, "Getting Control of How You Spend Your Time," WLD training and organizational development manager Michelle Frederick led a discussion on the big challenge we all face in a whirl of e-mails and other distractions that drain our most valuable resource: time.

Time-Use Quiz
A few questions from a true-or-false quiz Frederick presented:

Is it a good idea to handle each piece of paper or e-mail only once?
Some questions don't have a clear-cut answer, but for e-mail and papers that must be read and filed if they're important, or chucked immediately if they're not, you generally should handle them no more than three times. Otherwise, you're wasting time.

Is it a good idea to do two things at once in order to save time?
Multitasking is trickier. Important, demanding tasks require your full concentration. But if you're printing out a batch of documents, why not do a quick follow-up phone call or some other simple task instead of standing around waiting at the printer?

Should unwanted visitors be treated "coolly" so they won't stay long?
Unwanted visitors can be a huge time-suck. When a social butterfly plops down into your guest chair, the next thing you know, a half hour is gone.
Being cool to such people does not mean being rude, and social interaction in offices is vital. But it's your time that's being stolen. 
Frederick suggested filling that office guest chair with stuff to discourage sitting on it, and a lunch participant noted that he stands when such people approach, limiting the conversation to a brief exchange. If you have an office door, it's okay to close it when you don't want to be interrupted.

Time Wasters
We all have our pet peeves when it comes to time wasters. Here are a few and Frederick's suggestions for combating them.

 Procrastination. List the tasks you've been avoiding, prioritize them, and do at least one of them daily. Break tasks down to manageable bits, and build in accountability by telling someone you're going to complete this task at a certain time. Avoid perfectionism and unrealistic standards for any job.
Inability to delegate. Know the go-to people in your group who can complete a task, give them clear instructions, and delegate routine tasks to free yourself for work that requires more concentration.
Technology. Turn off IM (instant messaging), turn off e-mail notification in your status bar and set aside specific times to check e-mails, schedule times for social media, and use caller ID.
Interruptions. Head them off before they happen: close your door, and turn off your phone if you need to concentrate. If you have an unannounced visitor, give him or her options of a time when you can help with the problem or direct the person to someone else.
More Time Wasters
Management by crisis (people making their crisis your crisis)
Personal disorganization (a messy desk doesn't necessarily mean someone is disorganized, however, just as a neat desk doesn't guarantee someone is organized)
Getting Organized
Recognizing your energy cycle—are you a morning person or do you feel more focused later in the day?—is also important to successful time management. If you typically feel drained in the late afternoon it makes sense to work on more demanding tasks earlier and routine stuff later in the day.

So what's the next step? Pick two things that would improve your time management. Implement solutions, and at the end of six weeks evaluate whether your time management has improved.

Remember that improved time management is a proactive task.