Law
WCL's Grossman Honored for Focus on Public Service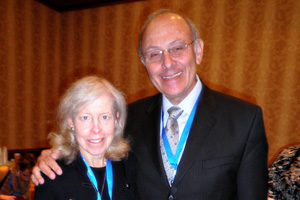 The Association of American Law Schools (AALS) honored Washington College of Law dean Claudio Grossman for his efforts to increase pro bono and public service through scholarship, leadership, and service. Grossman received the 2012 Deborah L. Rhode Award, January 6, at the AALS annual meeting in Washington, D.C.
"I was honored to be selected as the 2012 Rhode Award recipient. I see it not as a recognition of myself but of the values of WCL," said Grossman of the award, named for Stanford Law School professor and former AALS president Rhode. "As the first law school founded by women, the goals of advancing the causes of underprivileged and underrepresented people have been at our core since our founding in 1896. Today, our public interest programs and experiential learning opportunities are among the strongest in the nation."
Each year, more than 200 students represent clients in matters throughout the world through the law school's 11 clinical programs and more than 400 students assist both local nonprofits and international aid organizations though externships. Outside of the classroom, students participate in numerous pro bono projects — the class of 2011 recorded more than 26,000 hours of pro bono service.
Last month, National Jurist magazine named WCL among the best in preparing students for public service. Based on employment data, curricula, and standard of living, WCL was named one of the top schools for government jobs and one of the top schools for public interest.