Athletics
Jennings Inducted into Field Hockey Hall of Fame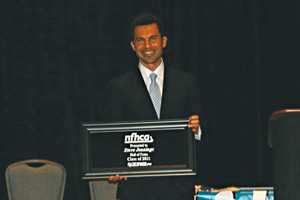 Steve Jennings is a coach, teacher, mentor, and role model.
Now you can add Hall of Famer to the list.
American University's field hockey coach was inducted into the Zag Field Hockey Tours/NFHCA Hall of Fame January 14 at the Pennsylvania Convention Center in Philadelphia.
"It's amazing and overwhelming," he said of the honor. "It's not something you spend your normal life thinking about. It's a great credit to our players and staff. People recognize the strength and power of our story and how much has been accomplished by so many people through the years."
Jennings arrived at AU in 1999, and has turned the Eagles into a Patriot League dynasty. Posting a record of 172-83, he's led AU to nine conference regular season titles and eight Patriot League Tournament crowns. He has been named Patriot League Coach of the Year eight times, including each of the past seven seasons.
He also served as an assistant coach on the U.S. National Women's Field Hockey, and has coached in the World Cup, Pan American Games, and the 2008 Summer Olympics in Beijing.
"Passion is a key ingredient for every coach who wants to be successful," Lee Bodimeade, head coach of the USA Women's National Team, told AUEagles.com. "Fortunately, Steve not only possesses an extreme amount of this passion, but he adds to it a wealth of knowledge of our sport and a personality that enables any team or athlete that he is involved with, to improve. Witnessing this first hand when Steve worked with me as the assistant coach for the USA Women's National Team from 2005 through to 2010, he is the main reason for the elevated performance of the national team through this five-year period."
Jennings was anonymously nominated for the hall, and a National Field Hockey Coaches Association committee voted him in last summer. He received the honor during a luncheon attended by more than 800 people, many of whom were friends and supporters of AU field hockey.
"The thing that struck me was how proud I was to have so many people to share it with," he said. "I feel very connected to all the people who have sacrificed and given so much. It's a wonderful honor to feel their love and support."
Jennings led the Eagles to seven NCAA Tournament appearances in the last nine years, including Elite Eight appearances in 2004 and 2005, when AU finished the season ranked fourth in the nation. He is a two-time NFHCA Regional Coach of the Year and was the 2004 NFHCA Division I Coach of the Year.
Yet he is perhaps most proud of his players' accomplishments off the field. He has coached 16 NFHCA All-America selections since 2003, 44 players named All-Region since 2003, 24 Patriot League Players of the Year, five Patriot League Scholar-Athletes of the Year in the last nine seasons, and 158 Patriot League Academic Honor Roll selections since 2001.
"Hopefully we'll be able to knock the door down and get into the Final Four and take the next step for the national championship," he said. "But our kids are doing phenomenal work in the classroom and developing into incredible people and doing wonderful things in the real world, and ultimately that matters more than if they become an All-American."
Four days after earning his ticket to field hockey immortality, Jennings sounded like he still couldn't believe his luck.
"There's something critical about working with young people as they develop into young adults," he said. "I really love my kids. I think I've kind of hit the lottery."