Government & Politics
Candice Nelson Discusses New Book, GOP Primaries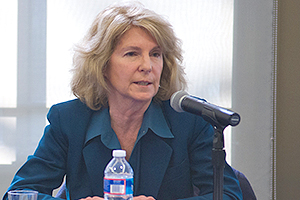 Candice Nelson's new book, Grant Park: The Democratization of Presidential Elections 1968 – 2008, provides a detailed study of four decades of presidential contests.
On January 25, sandwiched between the South Carolina and Florida primaries, the School of Public Affairs professor discussed the book and this year's heated Republican race with three of her colleagues at a forum sponsored by American University's Center for Congressional and Presidential Studies.
"As I worked on the book then watched Obama's acceptance speech [in 2008], it struck me that there has been a real change," in presidential elections, said Nelson.
These include: 
technology, "which has really changed campaigns and the way voters respond"
diversity in the electorate 

changes in election laws, including election day registration, early voting, and no excuse absentee voting
The event was moderated by SPA professor James Thurber, director of CCPS.

Thomas Mann, a senior fellow at the Brookings Institute, offered praise for Nelson's book, but not for the four men running for the GOP nomination.

"This is the weakest field of candidates we have seen in our lifetime," he said. "Unless they find a new candidate the Republicans' hopes for the White House rest on a really bad economy and a negative referendum on it."

Dotty Lynch is an executive in residence at the School of Communication. She noted that voter turnout has been high.

The candidates "have captured the [attention] of a lot of people other than just political junkies," she said.

Several people pointed to the numerous debates as a major reason for the volatility of the race. Three different candidates won the first three contests.

"I think one of the reasons the debates have been so interesting is that so many people have been engaged through Twitter and Facebook," Nelson said.

"It has been stunning to see how funding surges in the 24 to 48 hours after someone emerges as having a great debate performance," Mann said.

While most panelists shied away from making definitive predictions, Mann did offer some pointed opinions on the viability of former Speaker of the House Newt Gingrich, the surprise 12-point winner in South Carolina.

"He is so vulnerable in a general election that the Democrats would love to run against him," he said. "And Republicans are so, so fearful of it."