Athletics
Gary Williams, Dickie Wells to be Inducted into Cassell Hall of Fame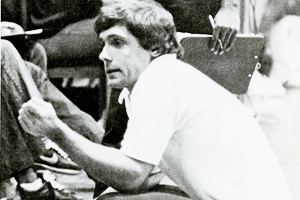 Before he so famously crouched on the sideline of the College Park court that now bears his name, Gary Williams steered the basketball program at American University.
The legend's first head job was at AU, where from 1978 to 1982 he guided the Eagles to a 72-42 record and two NIT Tournament appearances.
Under Williams AU posted consecutive 20-win seasons for the first time since 1959–1960, when a man named Dickie Wells was pulling down rebounds at a frantic pace. The first African-American player at AU and in the Mason-Dixon Conference, Wells is AU's second all-time leading rebounder.
On February 25, Williams and Wells '65 will be connected once again when they are inducted into the Stafford H. "Pop" Cassell Hall of Fame.
"Gary and Dickie were selected because both have had such a significant impact on basketball and athletics at American University," said Keith Gill, director of Athletics and Recreation.  "Both have left legacies that provide a framework for future success. American University and its athletics program are a much richer place because of Dickie Wells and Gary Williams."
Williams retired from coaching last year after 33 seasons during which he racked up 668 wins. He spent his final 22 years at the University of Maryland, but he's never forgotten his beginnings at AU.
"Bob Frailey was the AD then, and he hired me based on [former AU coach] Tom Young's and his assistant Tom Davis's recommendation," Williams said. "Anytime you hire an assistant who hasn't been a head coach before, you're taking a chance. I was very fortunate to have a staff that had [current Temple coach] Fran Dunphy and Ed Tapscott. We really had a good staff, but we probably didn't know it at the time."
By Williams's third season the Eagles were rolling. They defeated Philadelphia schools Temple, LaSalle, and St. Joseph's in the legendary Palestra en route to a 24-6 record.
"Anytime you could beat the Big Five schools back then, that was a big deal," he said. "We came within one shot of winning [the conference]. St. Joe's beat us in the Palestra in the championship game."
Williams's coaching career took him to Boston College, Ohio State, and Maryland, and soon it should land him in the Naismith Memorial Basketball Hall of Fame. But first is enshrinement at AU.
"I am really appreciative of the honor," he said. "Wherever I coached you didn't go into it with the idea that anything would happen after. The idea that people appreciate what we did at American is nice. When a coach gets honored it's always about the players. All those components — the athletic director, the staff, the administration — allowed us to be successful."
The late Dickie Wells was a standout on some fantastic Spingarn High teams in the segregated Washington of the 1950s. Unlike some of his teammates, Wells didn't want to go north or west to play college basketball. So he headed uptown.
When he started AU's season opener against the Naval Academy on December 5, 1956, Wells became a pioneer. Playing with fellow Cassell Hall of Famer Willie Jones, AU faced obstacles other schools didn't have to deal with.
He and his teammates rarely left their hotel rooms when AU was on the road, he told American magazine in 1998.
"We were never in any town long enough to know what side of the tracks we were on," he said.
A Little College All-America Honorable Mention in 1958 and NCAA College Division Honorable Mention in 1960, Wells went on to teach physical education in the D.C. Public Schools for 30 years. He passed away in 1999, and his brother, Ed Wells, will accept the honor on his behalf.
The induction ceremony will take place at the School of International Service at 12:00 p.m. Festivities will follow the induction brunch, with a silent auction at 3 p.m. and the men's basketball game against Lafayette at 4 p.m., both in Bender Arena.
Tickets are $65 and include the Hall of Fame luncheon and induction ceremony as well as a seat at the game. To reserve your ticket, contact Brian Brantley at 202-885-3104 or brianb@american.edu.