Government & Politics
Top Secret America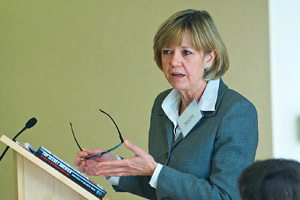 U.S. counterterrorism and intelligence operations have gotten so large and opaque that it's nearly impossible to hold them accountable for what they're doing, much less evaluate their actions and effectiveness.
Moreover, private contractors are now so tightly woven into the fabric of the counterterrorism and intelligence communities that it's difficult to imagine those operations working without them.
Those are some of the conclusions investigative reporter Dana Priest, who has won Pulitzer Prizes for her work on CIA secret prisons and counterterrorism efforts overseas as well as for reporting on conditions at Walter Reed Army Medical Center, told a gathering of scholars February 17 at AU's School of International Service (SIS).
Priest, whose most recent book is  coauthored with William M. Arkin, appeared at SIS's "Mission Creep: Is U.S. Foreign Policy Being Militarized?" Three panels featured scholars and ambassadors, among them Ambassadors James Dobbins and Edward Marks, and Professors Cathy Downes of the National Defense University, Jennifer Kibbe of Franklin and Marshall College, Derek Reveron of the U.S. Naval War College, and Gordon Adams of AU's SIS.
"None of this is a rogue operation by a bunch of people who want to get out there and kill the bad guys," Priest emphasized. "None of it. It's all sanctioned by the civilian leadership, in this case the CIA director, the defense secretary, and most importantly the president . . . I'm not saying this is a bad thing. I'm saying we should know a little more about it. We should know what the rules for JSOC [Joint Special Operations Command, best known for the Navy SEALS team that killed Osama bin Laden in Pakistan] are, and if we're okay with them, fine.
The day before Priest's appearance, her former Washington Post colleague and foreign correspondent Anthony Shadid died at age 43 of an asthma attack in Syria.
Shadid reported on the ground, sometimes embedding with troops.
"What Anthony did was provide an antidote to [the natural tendency to engage in cheerleading]," showing what it was like to be a soldier in dangerous situations, she said. "And it's a theme that runs through the question why the military in my view is not the best mechanism to do nation-building and various nonmilitary missions."

Growing Role of Contractors
Priest highlighted an important trend, the growing role of dozens and dozens of contractors like Blackwater in counterintelligence and counterterrorism. But contractors have not proven cost effective, and it's difficult to monitor what they're doing.
"My favorite example of that is we have these giant contracts now that are so big that we hire contractors to manage the contracts, and they have maybe four big partners, I'm talking big partners, Lockheed Martin, Boeing, Northrop Grumman, the huge defense contractors," Priest said. "And then they hire hundreds of subcontractors, and those subcontractors are not always accounted for on DoD [Department of Defense] books."
Two years of research revealed that since 9/11 there are about 1,200 top-secret organizations, most under the Defense Department. Around the Washington, D.C., area 33 gigantic buildings—the Liberty Crossing National Counterterrorism Center, for example, has about 500,000 square feet—house such organizations.
Perhaps most telling about the rising importance of contractors is the Wall of Honor at the CIA's Langley, Virginia, headquarters.
Twenty-eight stars on the wall represent anonymous people who died in the line of duty since 9/11. Of those 28, eight are for contractors.
"Contractors are not just doing IT, they're not just connecting computer systems, and they're not Halliburton supplying base infrastructure," Priest said. "They are in the core mission of what the government does, and in the most sensitive core missions of what it does with the deep covert actions."

So What?
During the Q-and-A period came the question, So what? Why does it matter that these secret operations are going on and that our intelligence efforts are being focused on fighting terrorism?
The short answer: Informing the public is impossible if everything is classified, the situation we find ourselves in post-9/11. How can we evaluate tactical and operational plans when the information to do so is hidden behind a wall of secrecy?
"Going to war is the most important thing that the United States does and it's the most important decision that the American public makes through representatives," Priest said. "And it's the most important thing to be debated by the American public."