Achievements
Native American Group Honors WINS Program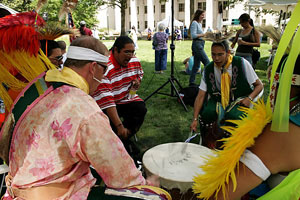 AU's Washington Internship for Native Students (WINS) will be honored at the National Congress of American Indians' (NCAI) 14th annual leadership awards, March 6, in Washington, D.C. WINS will be recognized for its efforts to shape the next generation of Native leaders.
Other honorees include Congressman Don Young (R–Ark.); Larry Echohawk, assistant secretary for Indian affairs, U.S. Department of the Interior; and Eddie Brown, professor and director of American Indian studies, Arizona State University.
The WINS program is a "[champion] for tribal sovereignty in extremely challenging times," said NCAI president Jefferson Keel.

"The leadership of the WINS program in equipping Native students to succeed in the government, private, and civic sectors has helped build the foundation for a successful nation-to-nation relationship for generations to come."
Part of Washington Professional Development (formerly Washington Semester), WINS was founded in 1994. The program draws about 100 American Indian, Alaska Native, and Native Hawaiian (AI/AN/NH) students to Washington each year. Participants intern at private firms and government agencies like the Bureau of Indian Affairs, the Department of Agriculture, and the Environmental Protection Agency, while taking courses that center on Native American policy issues.
Under the direction of Jack Soto, himself a WINS alumnus and graduate of AU's School of Public Affairs, the program is sponsored by the university and the government agencies that provide the internships.