Law
WCL Hosts Forensic Experts in Fight against Torture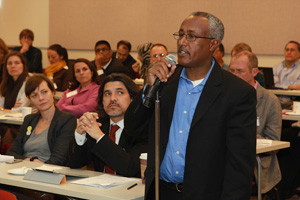 Nearly 150 of the world's leading human rights experts gathered at AU's Washington College of Law (WCL), February 15-16, to explore how forensic evidence can expose and prevent torture.
Cosponsored by the International Rehabilitation Council for Torture Victims (IRCT), with support from the European Commission, the conference marked the conclusion of IRCT's three-year project to strengthen collaboration among health and legal practitioners in the fight against torture.
"Impunity is one of the most serious impediments to the prevention of torture. Perpetrators are seldom brought to court, and torture survivors rarely receive any kind of reparations or redress," said Brita Sydhoff, IRCT secretary general. For a decade, IRCT has promoted the medico-legal documentation of torture as a way to "increase victims' access to justice, fight impunity, and ultimately act as a deterrent to would-be torturers.
"Collaboration with academic institutions has been a key to success of the IRCT's work on the promotion of forensic evidence in the fight against torture, and WCL has been a great partner," continued Sydhoff.
The aim of the conference was threefold:
increase the availability of high quality forensic documentation concerning allegations of torture
use and facilitate victims' access to forensic documentation as evidence in legal proceedings
increase awareness of the significance of medical forensic evidence, victims' rights, and state obligations under the U.N. Convention against Torture to investigate and prosecute perpetrators
Six sessions focused on fighting impunity and survivors' perspectives. Lawyers, activists, and forensic experts from Mexico, Hungary, Georgia, Peru, Germany, and other nations also shared challenges and best practices.