Environment
Mayor's Pledge: Make D.C. Greenest College Town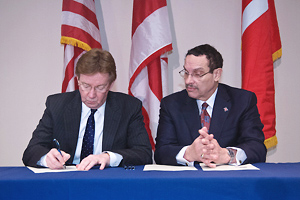 With the stroke of a pen, American University president Neil Kerwin solidified his commitment to making the District the nation's greenest, healthiest, most livable city. Kerwin was among nine Washington, D.C., university presidents who signed the Mayor's College and University Sustainability Pledge (CUSP), February 29, at AU's School of International Service (SIS).
"The commitment made by our universities today demonstrates their dedication to making the District the most sustainable city in the country," said Mayor Vincent Gray. "This partnership, coupled with our Sustainable D.C. efforts, is a major step forward in ensuring that the District is environmentally, economically, and socially sustainable."

The first initiative of its kind in the country, CUSP requires signatories to undertake at least five commitments across 10 categories related to energy and buildings, jobs and community development, water, green education and training, transportation, waste, research and innovation, purchasing, grounds and habitat, and management and reporting. These commitments include:
achieving LEED (Leadership in Energy and Environmental Design) certification in all new construction and major renovations  
purchasing or generating energy from renewable sources
employing D.C. residents in jobs related to sustainability
using tap water instead of bottled
including at least one sustainability course in required curriculum for all students
implementing a LEED-complaint cleaning program
increasing the tree canopy
Schools must implement their sustainability plan by December 31 and report on their progress by August 31, 2014. Universities will be awarded one to three "green" stars based on their achievement.
"It's exciting to think about the future that we can create together," said Gray. "This is an exercise in saving the planet."
AU is already among the city's most environmentally friendly institutions. The university, which is committed to carbon neutrality by 2020, is home to highest density of green roofs of any school in the District, one of the largest solar electricity systems in Washington, and the largest urban solar hot water system on the East Coast. AU also received the highest possible rating in the 2012 Princeton Review's "green schools category," earning praise for its Green Teaching Certification Program, zero waste, sustainable purchasing, and green building policies.
The venue for the signing, the SIS building, is AU's first LEED Gold certified building. The green gem, which opened its doors in 2011, features myriad environmentally friendly features, including a LED-lit parking garage, low-flow faucets and fixtures, two rain gardens to clean and slow storm water runoff, and sunshades on the windows that prevent solar heat gain.

"Colleges and universities have a responsibility to be community leaders and by advancing sustainability, American University is demonstrating our active commitment toward becoming a sustainable city," said Kerwin. "Sustainability isn't just a buzzword at AU — it's a culture and dedication to social responsibility."

CUSP signatories include John Garvey, Catholic University of America; Fred Bollerer, Corcoran College of Art + Design; Alan Hurwitz, Gallaudet University; John DeGioia, Georgetown University; Steven Knapp, George Washington University; Sidney Ribeau, Howard University; Patricia McGuire, Trinity Washington University; and Allen Sessoms, University of the District of Columbia.